Fashion Trend Report 2018-19 (MEN)
TRENDS FOR MEN : A consolidated list of  the most fashionable colors and biggest trends for men you need to know for Spring/Summer + Autumn/Winter fashion trends of 2018-19. ALL IN ONE PLACE!!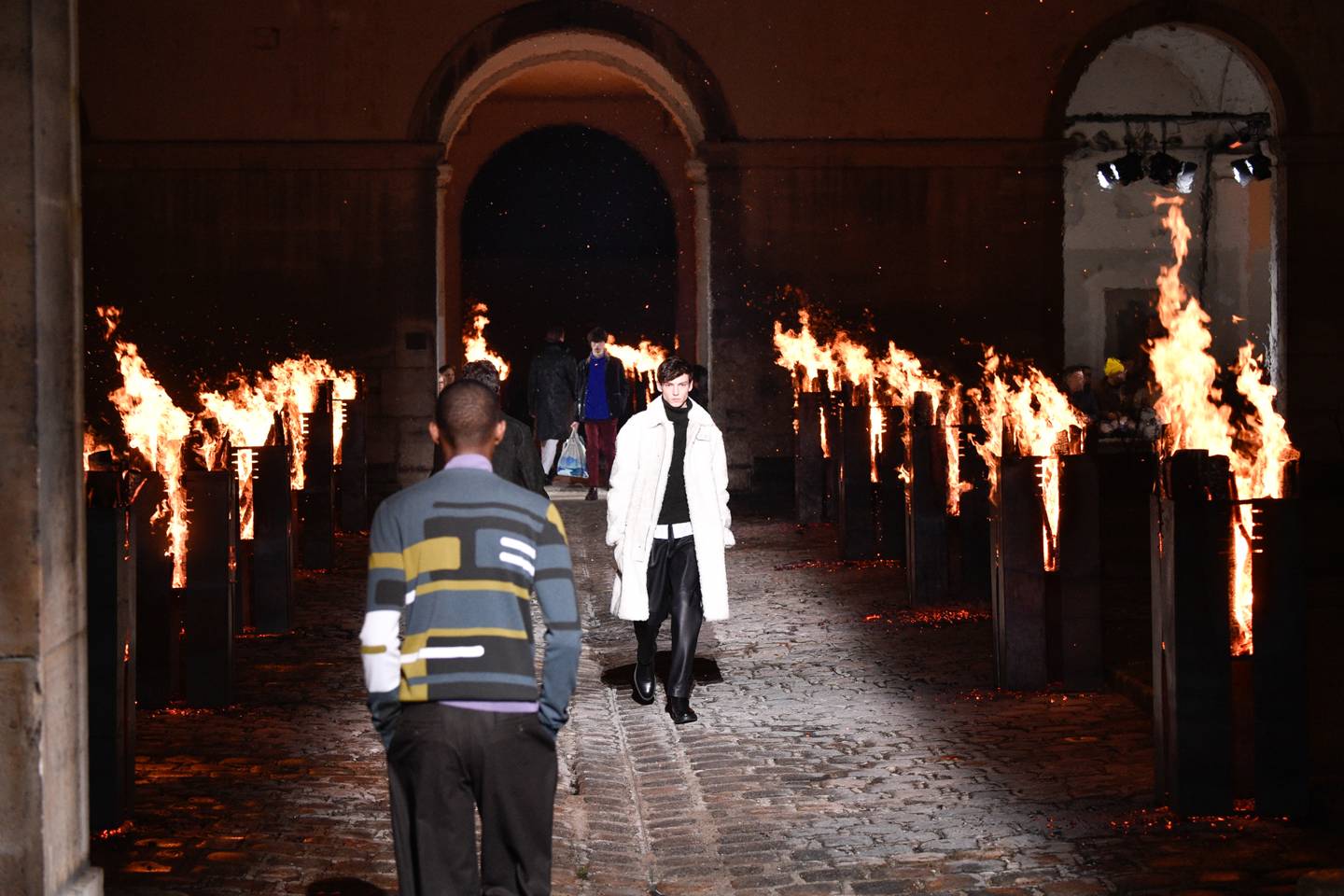 In the previous post I talked about and published the 'TOP FASHION TRENDS 2018-19'. Like the women fashion scene the Men's fashion scene follow the same 'time-machine + present mix-tape' theme as well!
Here are the popular runaway trends of 2018-2019 that I fell in love with:
1980s :
Every guy's style icon for next season? His dad circa 1983. From pastel colors to boxy suit jackets and light wash jeans with frayed hems (or – gulp – even a crease ironed in). However, the idea isn't for this to be costume-y – take your favorite elements of this trend and blend them with your existing wardrobe to create a look that feels fresh.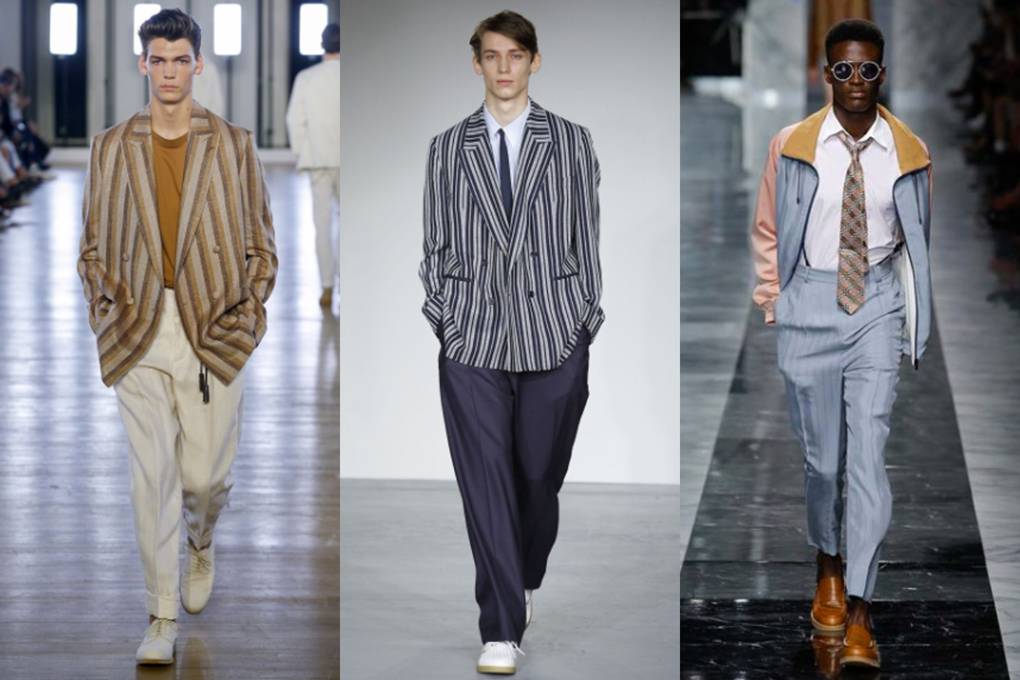 1990s :
Over the past few seasons we've had the big Nineties revival. Baggy cargo trousers (some of which zipped off at the knee), matching indigo double denim, long belts that grazed the thigh and sweater-vests were all spotted on the catwalks of the various capitals. Expect this trend to only get bigger as the season progresses.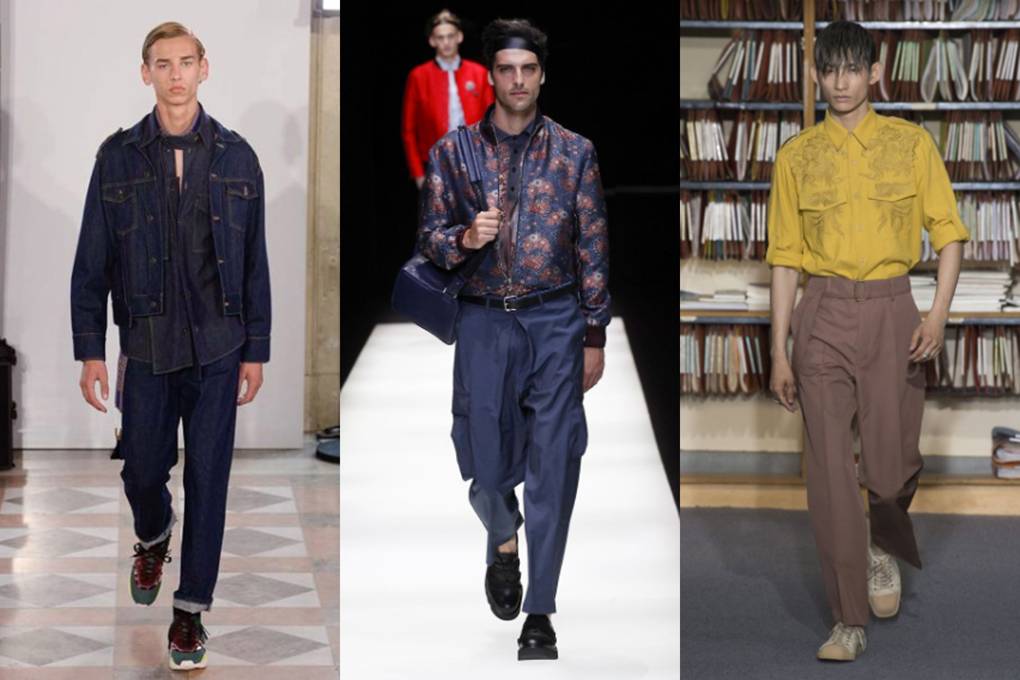 ALL-WHITE-EVERYTHING:
"One of the easiest ways to get that Eighties vibe is to try out of of the most popular looks we saw on the catwalks this season: wear white from head-to-toe. If you think this is a bit bold, try swapping out your top layer for an indigo denim jacket or light, tailored navy blazer. For shoes, try smart black or brown leather sandals or penny loafers – this will instantly smarten things up." –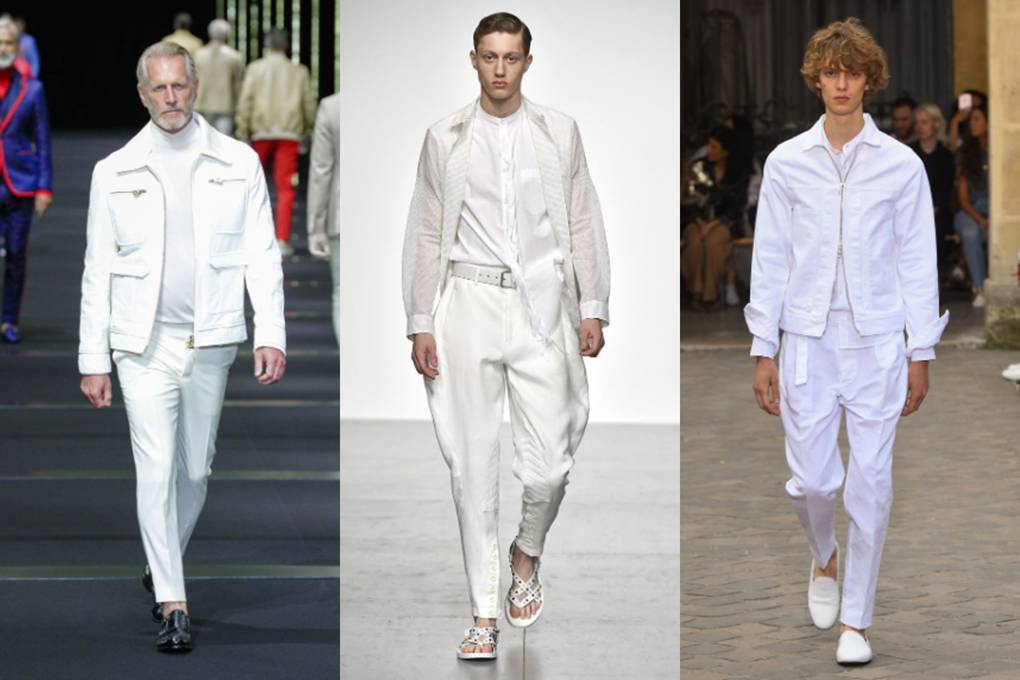 VERTICAL STRIPE SUIT:
"With most designers relying on block, primary colour for impact at the shows this season, patterns and prints were a little thin on the ground – that is, except for vertical stripes…This sort of fabric isn't only going to be eye-catching, but it's also going to be flattering on every guy no matter their body shape" –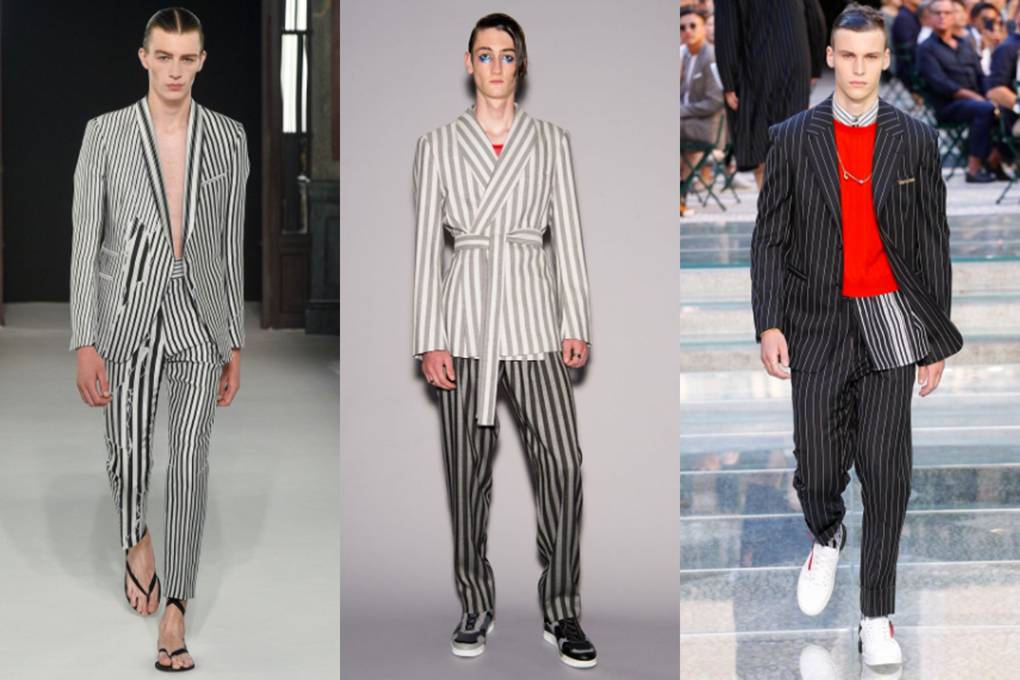 TWO POCKETS:
"Perhaps it's the recent death of Roger Moore, but riffs on safari jackets, field jackets and Seventies-style military shirts were trending at the shows this season. The key detail? Look out for double breast pockets on items with a slouchier shape, to keep things feeling modern." – 
MILLENNIAL PINK:
""Millennial pink", that warm, blush rose colour you can't help avoiding on your guys right now, is set to grow up next season – and is expanding into other hues…the most popular shades are from the mid-pink to pastel end of the spectrum. And what's impressive is that the sleekest, most established labels on the continent were generally the ones pitching it as your seasonal go-to: " –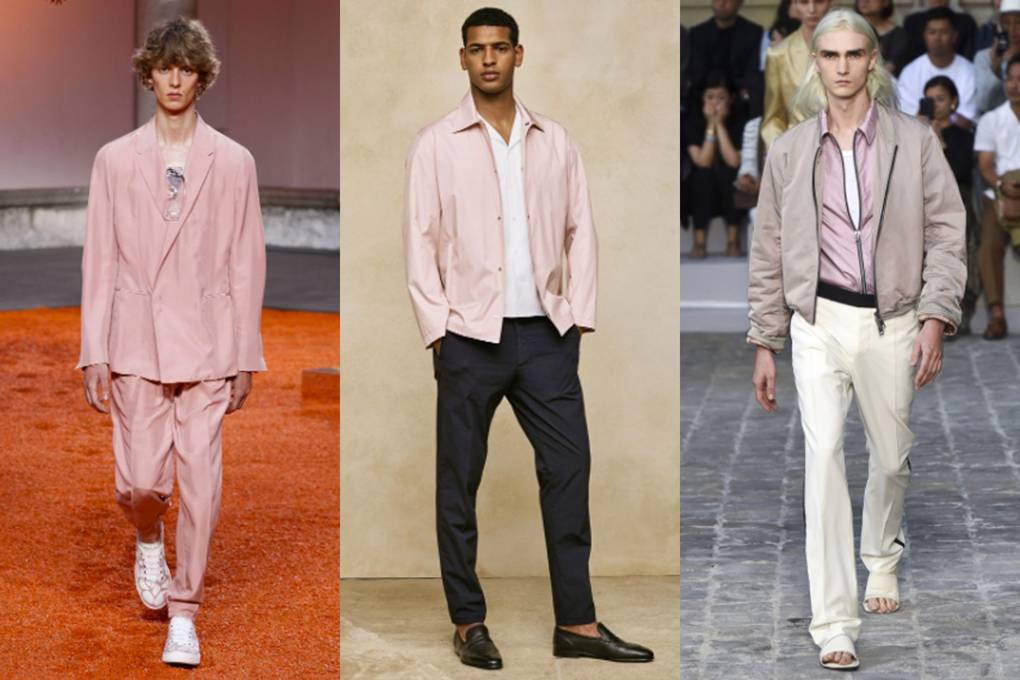 HIPSTERS MOUNTAIN RANGERS:
"Blending-in is the new standing-out, as evidenced by this new plethora of busy camouflage-prints. Kanye West showed camo as a part of his Yeezy Season 5 collection, and wouldn't you know it? It's everywhere now! We would not recommend taking a hiking trip in these looks. – 
LOVING JOURNALISM:
"Apparently, print is not dead. It's just been reduced to a fashion trend … that has nothing to do with actually reading or buying print publications." – 
REFLECTIVES:
"Designers like Heron Preston have been riffing off of workwear for a while now, and the latest iteration includes reflective stripes that resemble those worn by traffic cops. The good news is, you won't be hit by a bus anytime soon." – 
Spring/Summer 2018-2019 –
Next spring's fashion forecast is for winds of change, and we're not talking a light breeze. Blasts from the past are blown into the future, and the normcore storm is the biggest of all. In an antidote to stuffy style, the banal is lifted to the level of luxury as the designers all huddle under one style umbrella: the street. An urban arch-influence that sees sportswear soar, branded aggressively with logos left right and center, and ride the slipstream of streetwear giant, Supreme. The other seismic event of the season? A 90s influenced wardrobe that's going to be big.
SS18: HAWAIIAN SHIRTS
SS18: NORMCORE
SS18: OVERSIZED PANTS
SS18: BOWLING SHIRTS
SS18: SHORT SHORTS
London Fashion Week Men's SS18 : The latest London Fashion Week Men's sets the bar for the Spring/Summer 2018 men's shows around the world. Here are the biggest new season menswear trends from the catwalks in the nation's capital
SS18: TIE WAIST JACKETS
"This summer the ties womn't be around your neck, they'll be around your waist. While there were field jackets and blousons aplenty at the Spring/Summer 2018 shows in London, one of the more interesting riffs on outerwear came in the form of belted mid-length and longline jackets, cut from light cottons in a variety of wearable colours." – NICK CARVELL (gq-magazine.co.uk)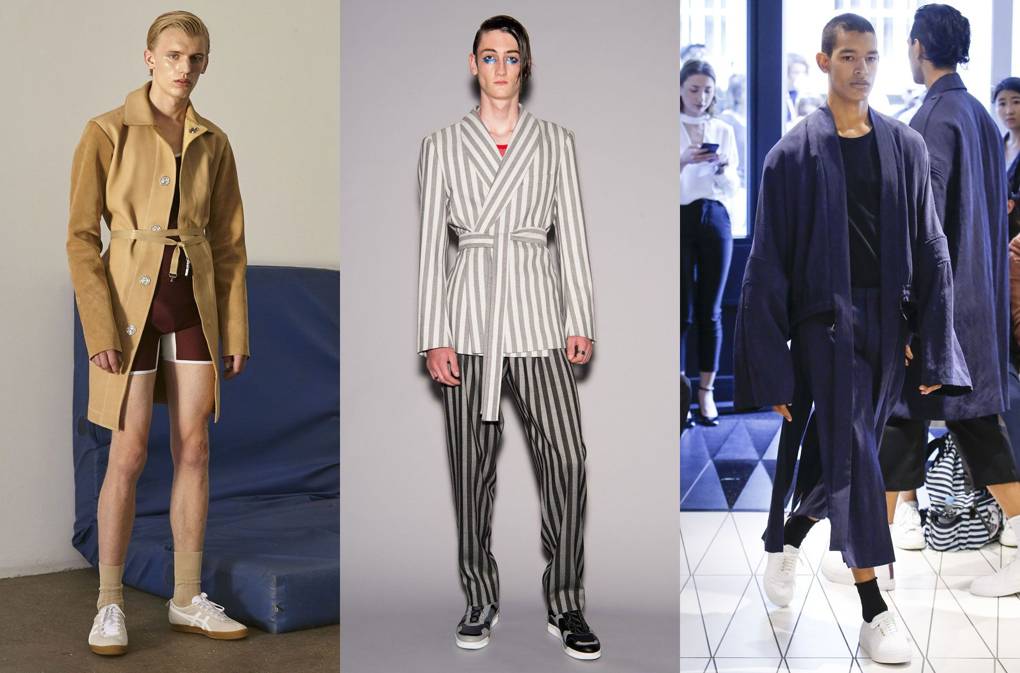 SS18: MID-WASH DENIM
"Perhaps more than ever, jeans were trending at London Fashion Week Men's – even Craig Green, known for his soft-yet-structured quilting showed a pair this season. After the heavily distressed styles of the past few years, the dominant model this time was a loose fit in a Seventies-style mid-wash blue (see: Martine Rose adn Oliver Spencer). However, it wasn't just on jeans – we also saw pleated trousers cur from lighter, more summer-friendly cotton chambray in this shade too – often with a pleat in the centre for extra thigh space, such as at Lou Dalton." – NICK CARVELL (gq-magazine.co.uk)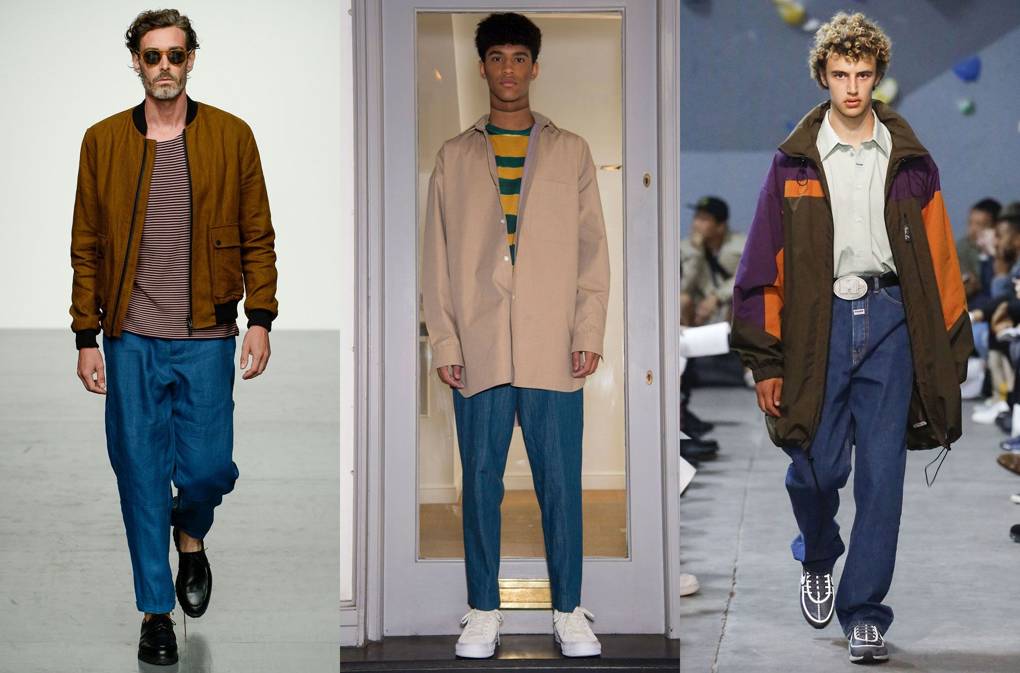 SS18: PLAYING WITH LAYERS
It's not just about the colours of clothing on the catwalk, it's also about how you wear it. One of the most notable trends yesterday was an inversion of the traditional rules of layering.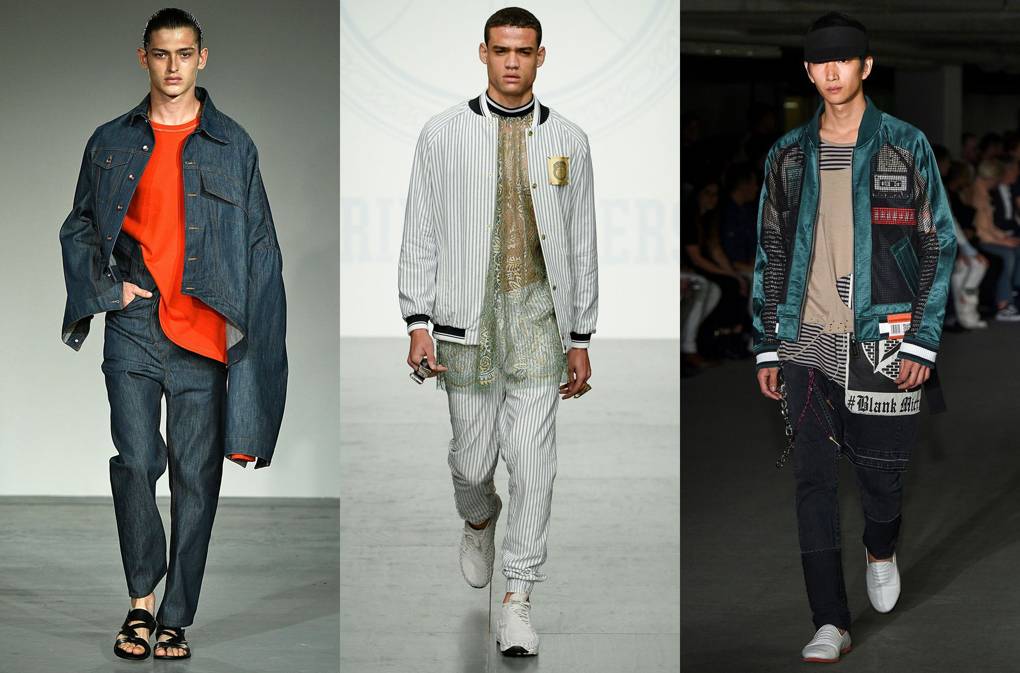 SS18: HEAD-TO-TOE TONES
"It's always amazing how, even with such a diverse set of designers showing on first day of London Fashion Week Men's, trends still emerge. This season, the first big one appears to be block colour worn head to toe." – NICK CARVELL (gq-magazine.co.uk)
Fall/Winter 2018-2019
LOGOMANIA:
"The collections harked back to an era that was more street, when style had more bling and the MTV generation proclaimed allegiance to the titans of international luxury with logos that roared. Those same brands are now assuming the style heritage that they rejected for so long. Go loud with all-over print, or go home." – 
OVER-SIZED JACKETS/ XXL SHOULDERS:
"Think Richard Gere circa 1980, during the American Gigolo period, when the sharp, oversized tailoring of Mr Armani took over menswear and shoulders got wider, all the better to take on an exciting new decade that heralded the Reagan years, when Wall St traders made their fortunes in a world that was increasingly divided. Today's times recall a little of the same ambiant zeitgeist that pushed designers to create jackets and coats with shoulders that were ever wider. Fashion armour for an uncertain world." – 
COWBOY:
A symbol of hopes and dreams, the wide plains of the American West are a seemingly inexhaustible source of inspiration for designers across the fashion capitals.
CHECKS:
"Checks of variable geometry ran from Scottish clan tartan fit for the neo-aristocracy at Alexander McQueen, to preppy accents and a nod to Amy Heckerling's cult film Clueless at Versace, to woodcutter plaids seen through Sacai's conceptual prism. The choice is yours." – 
CARTOONS:
"On knits the season, we spotted Road Runner and Wile E Coyote at Calvin Klein by Raf Simons, as part of his highly Instagrammable new collaboration with Looney Tunes. Over in London, where things are always going to be a little more subversive, Jonathan Anderson used homo-erotic tattoos by gay 1950s artist Dom Orejudos, referencing Tom of Finland's soldiers. And Rei Kawakubo presented a fashion manifesto when she opened her show with Superman cartoon strips. It said: stay inoffensive, stay open, for a gentler world." – 
LEATHER COATS:
"Luxury reached new heights as houses demonstrated expertise and excellence with beautifully worked leather coats at Berluti, Hermès and Prada." – 
COUTURE TECHNICWEAR:
"Take the current designer obsession with sportswear, add the growing interest in fashionable circles for North Face-style technicwear and you get a wardrobe that has come straight off the mountain. The key difference, is couture construction, that combines technicality and style to devastating effect." – 
TIGER PRINT:
"Leopard print is dead, make way for tiger print, best worn as a coat thrown over a dressed-down grungey rock look." – 
NIGHT FEVER GLAM:
A tsunami of rhinestones and sequins swept over the runways.
THE FAR EAST:
"Detractors might decry this one as cultural appropriation, but designers see it as a tribute to the refinement of Japanese and Chinese cultures, whose sakura blossom (Haider Ackermann), Chinese folklore (Kenzo) and traditional costume (Gucci, Zander Zhou) inspired their collections. " – 
CLUB TROPICANA:
Motifs and prints on shirts will run and run through next winter. Refreshing.
SHEARLING JACKETS:
PADDING:
"Flirting with volume, puffer jackets and other feather-light duvet garments wrapped around the body in a protective layer, like modern armor. A statement at Prada from the first look to the last, with highly desirable pieces that will send your fashion rep sky-high at Sacai and GmbH. " – 
FLORALS AND FOLKLORE:
Hybrid folklore or extra-large prints on the jackets, the embroidered floral print made a discreet appearance on the catwalks.
BUTTONED-UP SUIT-AND-TIE
Though more-casual versions of suits are trending, some designers still prioritized a buttoned-up suit-and-tie pairing. From left: Giorgio Armani's double-breasted élan; Ralph Lauren's matchy-matchy houndstooth; Hermès's traditional dark suit and spotted tie; Versace's navy suit with gold-buckle boots.
THE NON-SUIT SUIT
Meet the boardroom suit's informal younger brother. A boxy jacket with relaxed pants make the clean coordination of a head-to-toe look seem nonchalant. From left: Ermenegildo Zegna's neat duo with a notch-lapeled jacket; Neil Barrett's micro-checked zip-up; playful emblems at Marni; Sunnei's cornflower blue workwear riff; Lemaire's swirl-patterned set.
Men's Fashion Week Fall/Winter 2018-2019 in Milan – STREET STYLE
From dudes roaming the streets wearing reinvented tweed suits and effortlessly cool varsity-style jerseys, the Italian city is a sight to behold for more than a few reasons.
Here, we round up the most dapper looks from where you'd rather be right now.
Unbelievable! Right?
I can't believe I just saw so many handsome men in equally awesome outfits either!  Its okay to hyperventilate, and drool.  I won't judge you. It makes this report even more awesome. 🙂
*Source: • •gq-magazine.co.uk • thecut.com • en.vogue.fr • elle.com.au • dtmxsocks.cz •
Creativity is spontaneous. Writing is personal & emotional. Every piece is close to my heart. Coming up with new topics and compiling them takes effort & time. So help spread the word. Thank You! 😊

 SHARE • LIKE • COMMENT • SUBSCRIBE