Fashion Trend Report 2018-19 (WOMEN)
A consolidated list of Spring/Summer + Autumn/Winter fashion trends of 2018-19. ALL IN ONE PLACE!!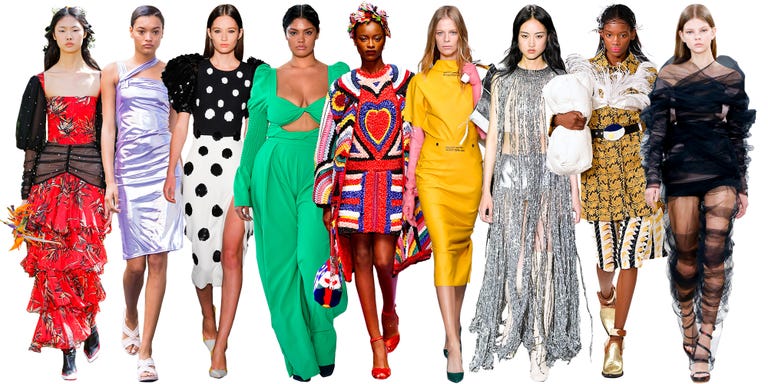 It is fascinating to know that we are right now in a time where major fashion eras of last couple of decades exist together along with the evolving future of fresh fashion trend. – All follow the same 'time-machine + present mix-tape' theme. Especially the influence of 80s and the 90s on current fashion & media scene is positively surprising and nostalgic!
It took me days of research, reading dozens of top fashion brands and fashion blogs online to bring it all together and finally compile a consolidated list of fashion trends of 2018-19. This was both tricky and extremely time consuming, especially because the Spring/ Summer 2018 and Fall/Winter 2018-19 fashion season reports are not only published separately, but also the runaway fashions trend of the major fashion weeks  are reported separately. And add to that my lack of patience and inability to stay still and work. There is no easy way to share this but  "Damn! I am lazy!!"
**For fashion trends for men go to my article: Fashion Trend Report 2018-19 (MEN) **
Here are the popular runaway trends of 2018-2019 that I fell in love with:
THE 1980s :
Designers have eschewed all other eras to focus very clearly on the 1980s. The silhouettes are all in place (think nipped waists, strong shoulders and long legs), and the muses are ones you'll instantly be able to imagine: Diana, Princess of Wales, continues to influence high-fashion places, with Off-White's Virgil Abloh citing the late style icon as his inspiration for his spring collection.
"Princess Di and her late 80s heyday were a pervasive influence on some of the season's key shows. Clearly the 20th anniversary of her death got Virgil Abloh thinking – he dedicated his entire Off/White show to her. Puff sleeved jackets, high-waisted jeans, pristine white slouchy boots and big shouldered printed dresses…The Power-Pouff – it's a thing." – Jess Wood (marieclaire.co.uk)
Casual day look :
OTT evening wear :

SATIN :
Satin was the dominant fabric during the London shows for two great reasons. First, its sheen instantly elevates any silhouette; second, its inherent fluidity and lightness makes it comfortable to wear all night long. The SS 2018 runway collection, was full on embracing the 90's minimalist and disco satin fabric in many shapes and color. This is a key fabric for that shine factor that's easy to wear and can be either casual or dressed up. * My personal favorite is matching it up with glossed up lips for casual wear, and dark matt lipstick for dress up.
STATEMENT SLEEVES :
SEQUINS:
To say sequins and sparkles will be a big deal next summer is an understatement. Style yours with a sweatshirt to give them daytime longevity. The brightest of the London Fashion Week fall 2018 fashion trends is definitely the use of sequins, and we saw shining fabrics practically at any runway show. Whether it was a lovely cocktail dress or an outfit meant for daytime wear, sequins were used in abundance at Temperley London, Toga, Erdem, and others.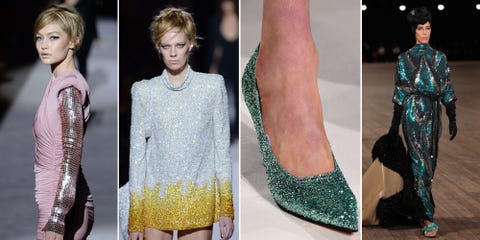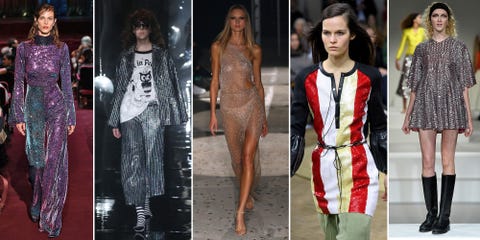 FEATHERS :
"Fluffy marabou and ostrich fluttered across a whole host of SS18 – from Anthony Vaccarello's feather-yeti 'It' boots at Saint Laurent to the twisted take on the trench that's become John Galliano's signature at Maison Margiela – this season is all about a gold brocade version with white feathers flying from the shoulders."– Jess Wood (marieclaire.co.uk)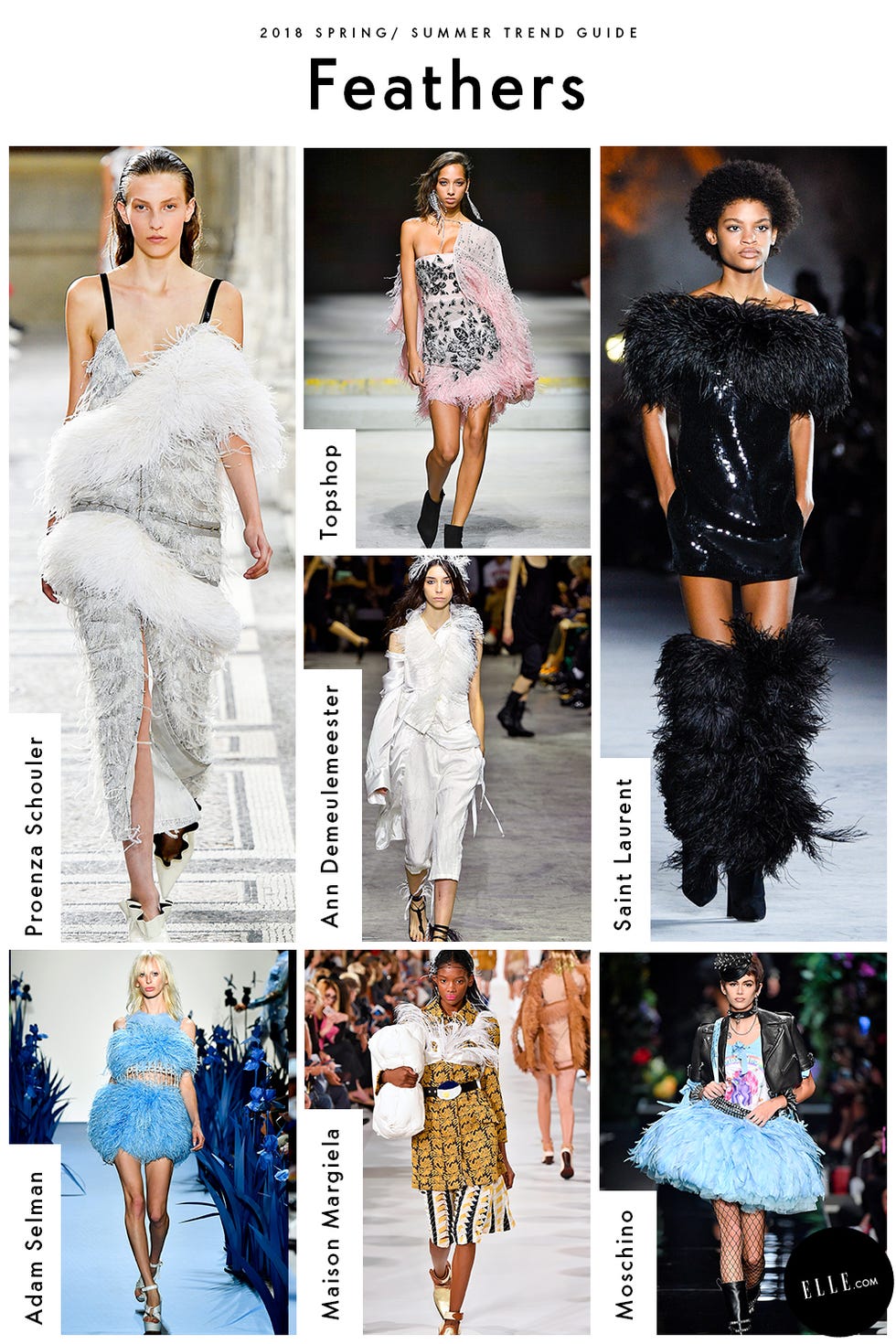 BEACH CLOTHS : (S/S '18)
"Marc Jacobs said it best, with his mad mash-up of swirly prints, rainbow colours and turbans. Imagine the splashy, sun-drenched style of a 1960s Palm Beach socialite – Lilly Pulitzer, say – and then take it up a notch or three. Gucci's Hawaiian-tropic print two-piece teamed with glittery gloves and a pile of necklaces is a case in point." – Jess Wood (marieclaire.co.uk)
FRINGES : (S/S '18)
Spring 2018 Milan Fashion Week Trend: Another iteration of the maximalist mood – major statement fringing, swishing across necklines, hemlines, bags…you name it. And these are no wishy-washy boho trims. Fringe made its way in all forms this season, so there's a look for every level of commitment.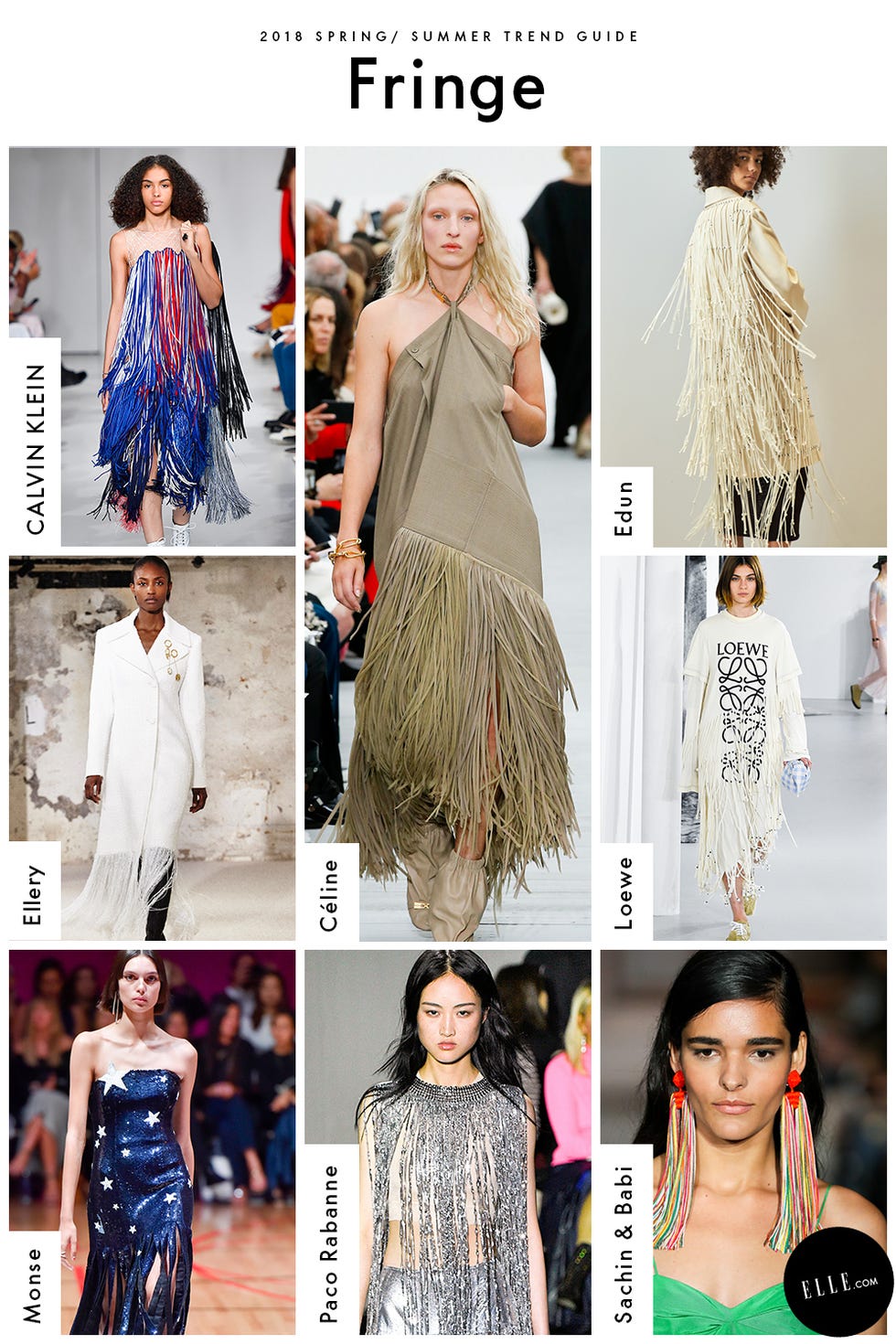 RUBBER AND PLASTIC :
Wet-look, wipe-clean (oo-er), whatever you want to call it, the texture of the season is shiny. "100% Nitrile / Synthetic Rubber" read CALVIN KLEIN'S industrial-grade pencil dress.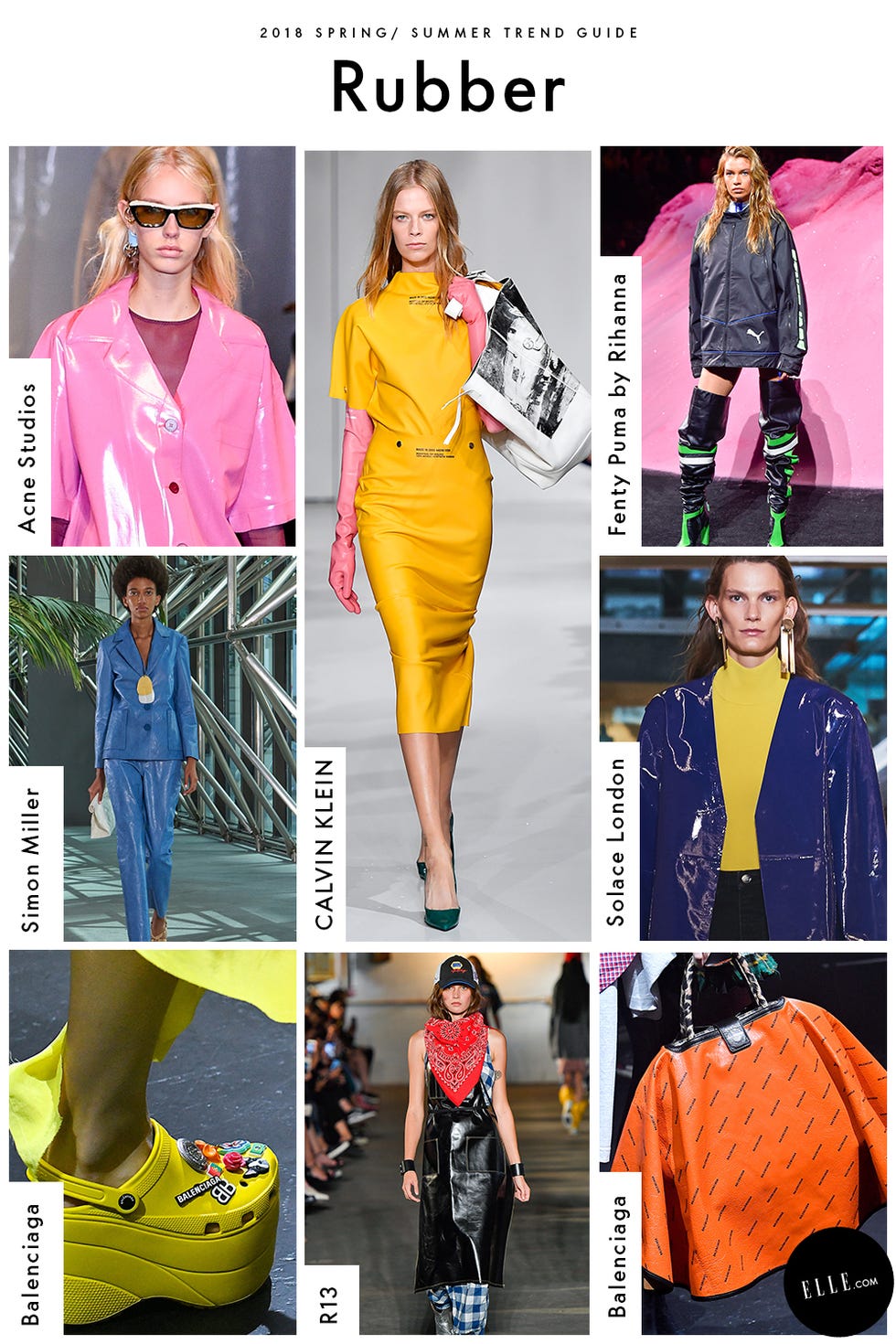 RUCHING :
"Who needs stiff corsetry when ruching is so much more comfortable? Fabric gets pushed around this spring with DIY pull-through details at Tory Burch, Kardashian-worthy curve-huggers at Tom Ford, and boudoir details at No. 21." – JUSTINE CARREON (elle.com)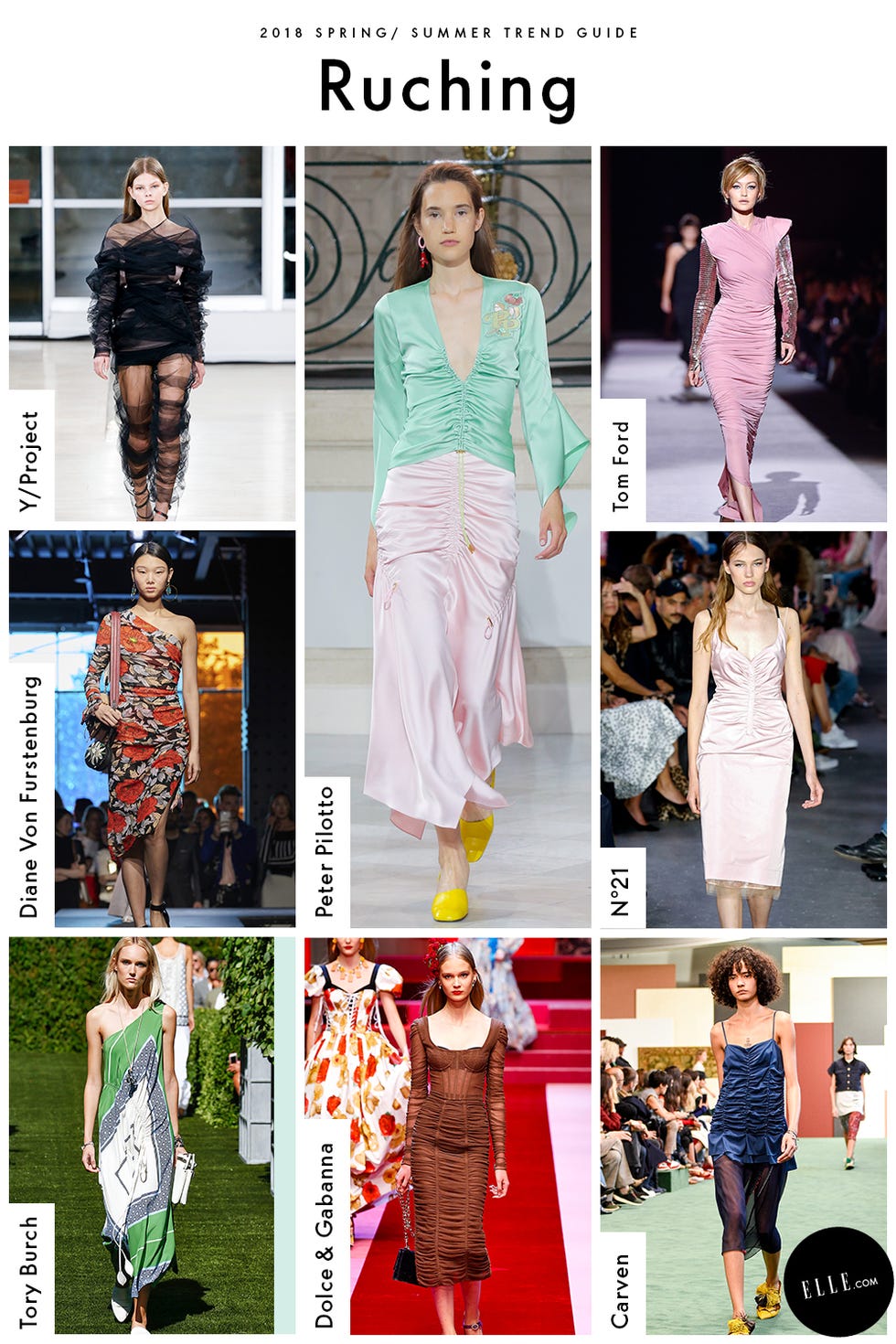 ASYMMETRICAL NECKLINE :
"Seen at Altuzarra, Isabel Marant, and Prabal Gurung, this off-balanced silhouette dances along your shoulder, wraps around your neck, and twists around your collar bone. Simultaneously. Get ready for the asymmetrical neckline." – JUSTINE CARREON (elle.com)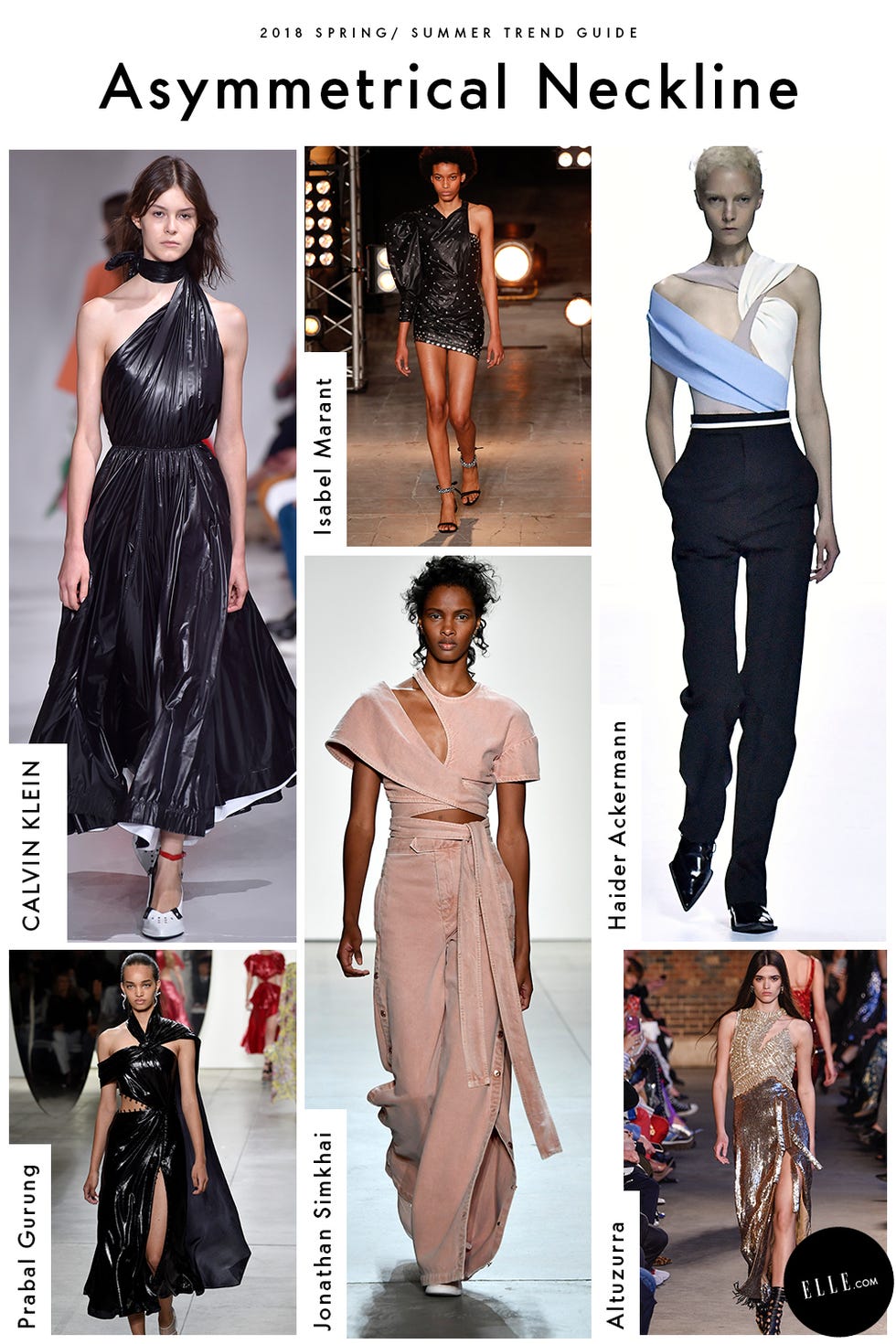 SQUARE NECKLINE :
"Square up this season with a neckline subtly throwing it back to the Renaissance. Featured at Carolina Herrara, Christian Dior, and Rodarte's first collection shown in Paris, we predict the flattering style to appear as dainty cotton tops, cocktail wiggle dresses, and every style in between." – JUSTINE CARREON (elle.com)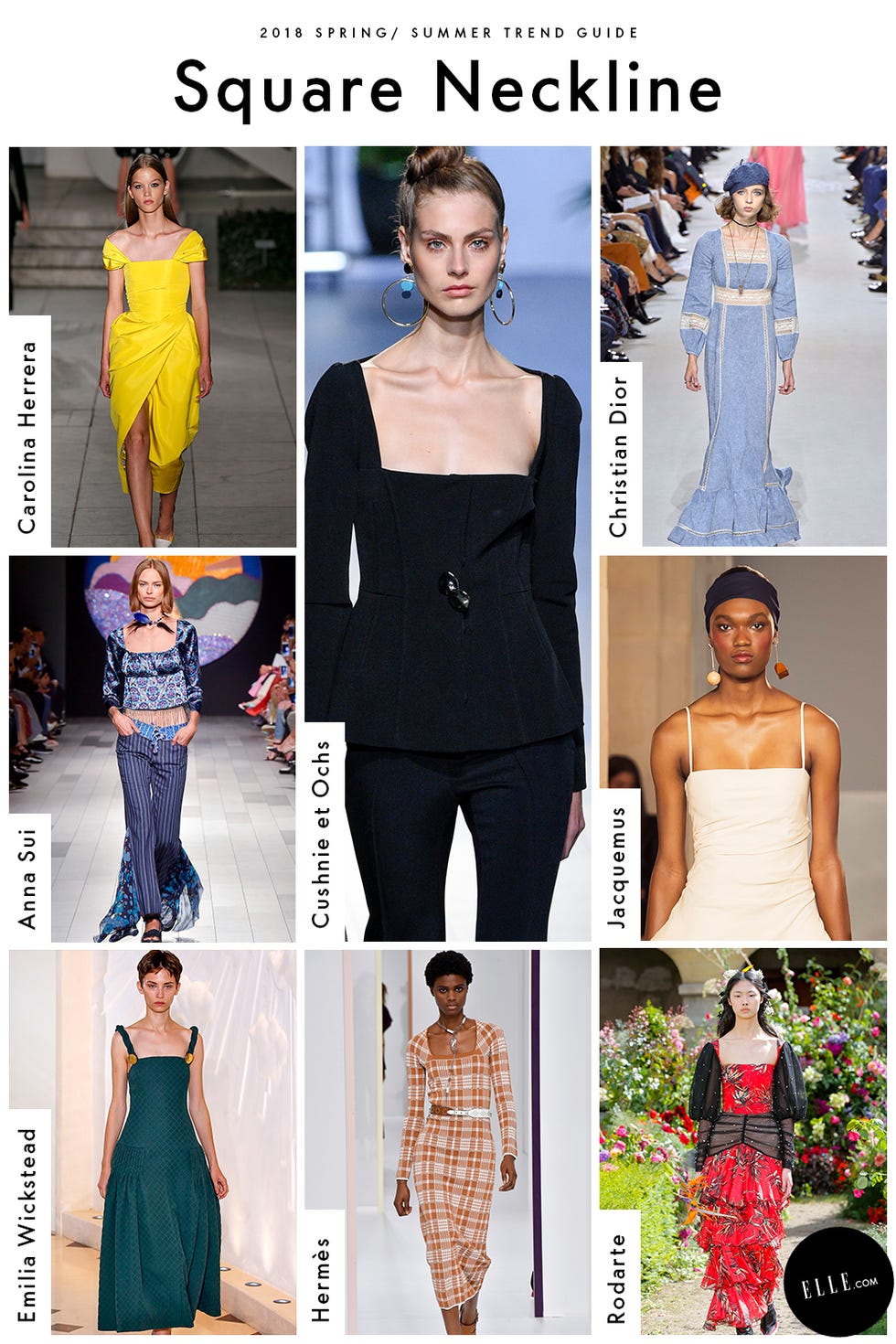 FANNY PACKS :
"We can deny it no longer: the fanny pack is here to stay. No matter your aesthetic, there's a hip-slung bag for you: strap on a sporty number from Rihanna's runway, go minimalist with Rochas, or wear it on the diagonal with Balenciaga." – JUSTINE CARREON (elle.com)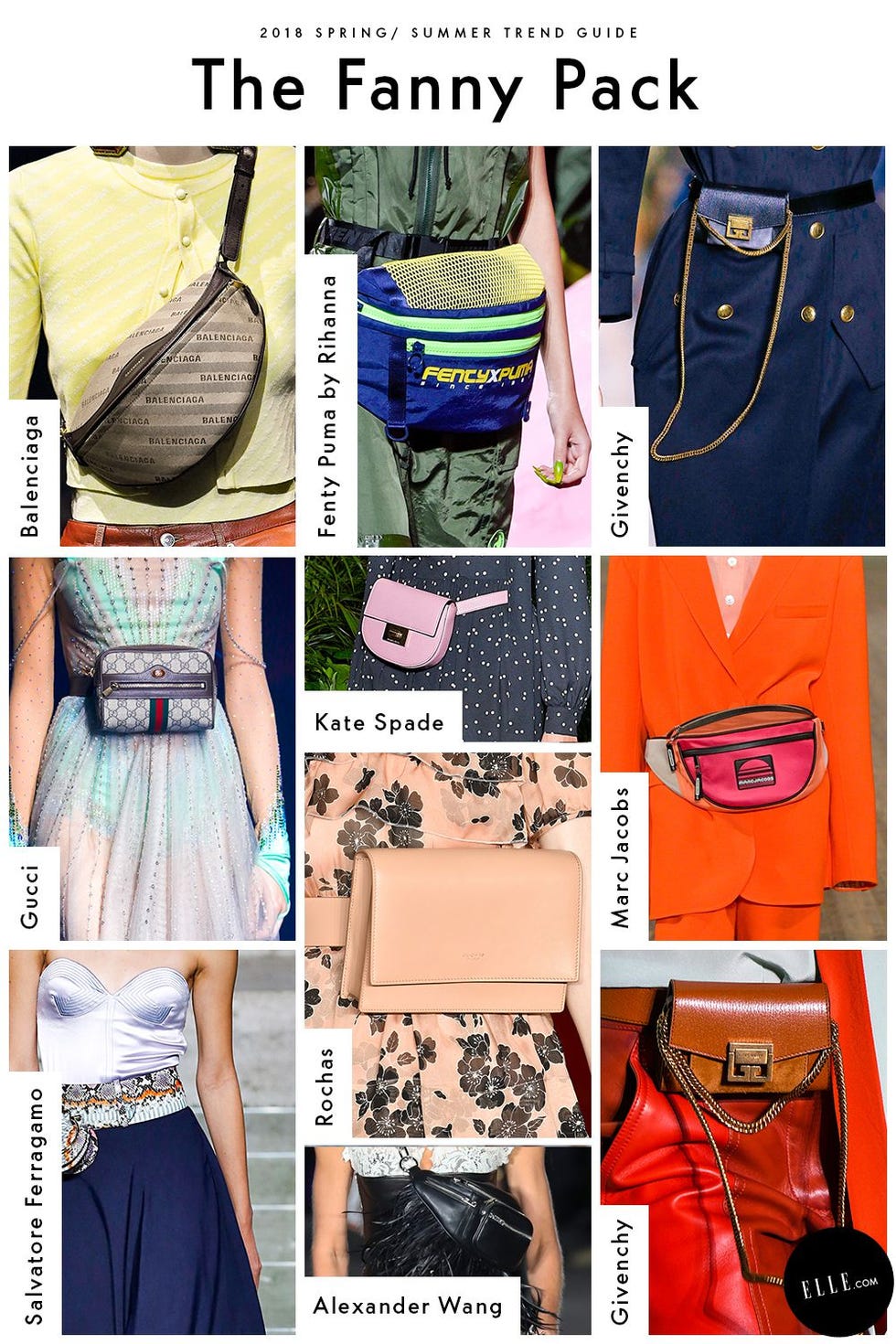 TRANSPARENT :
Sheer, skin revealing fabrics were shown in diaphanous dresses leaving little to the imagination yet done in sophisticated cuts. "Go clear this season with all your favorite designers. Chanel convinced us we need an OTK rain boot, Tibi's has us considering over a plastic corset, and Off-White's plastic-wrapped collab with Jimmy Choo already man a fan out of Rihanna." – JUSTINE CARREON (elle.com)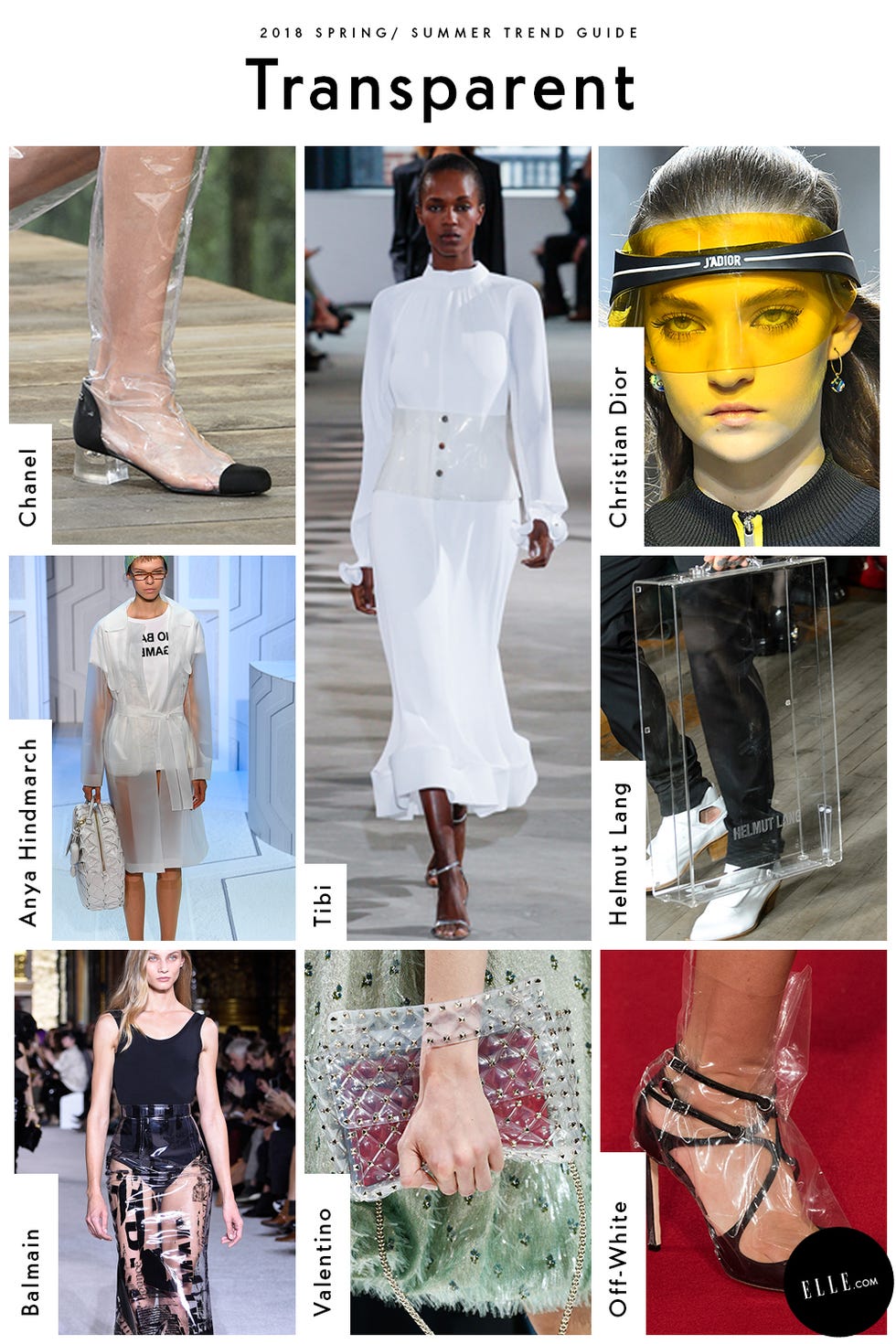 DENIM SETS :
"We're not crazy enough to retire our vintage, light-wash Levi's, but dark denim is seeing a resurgence. The selvage textile is doing double duty, with sleek Texas tuxedos showing up at Alexander McQueen, Rosie Assoulin, and more." – JUSTINE CARREON (elle.com)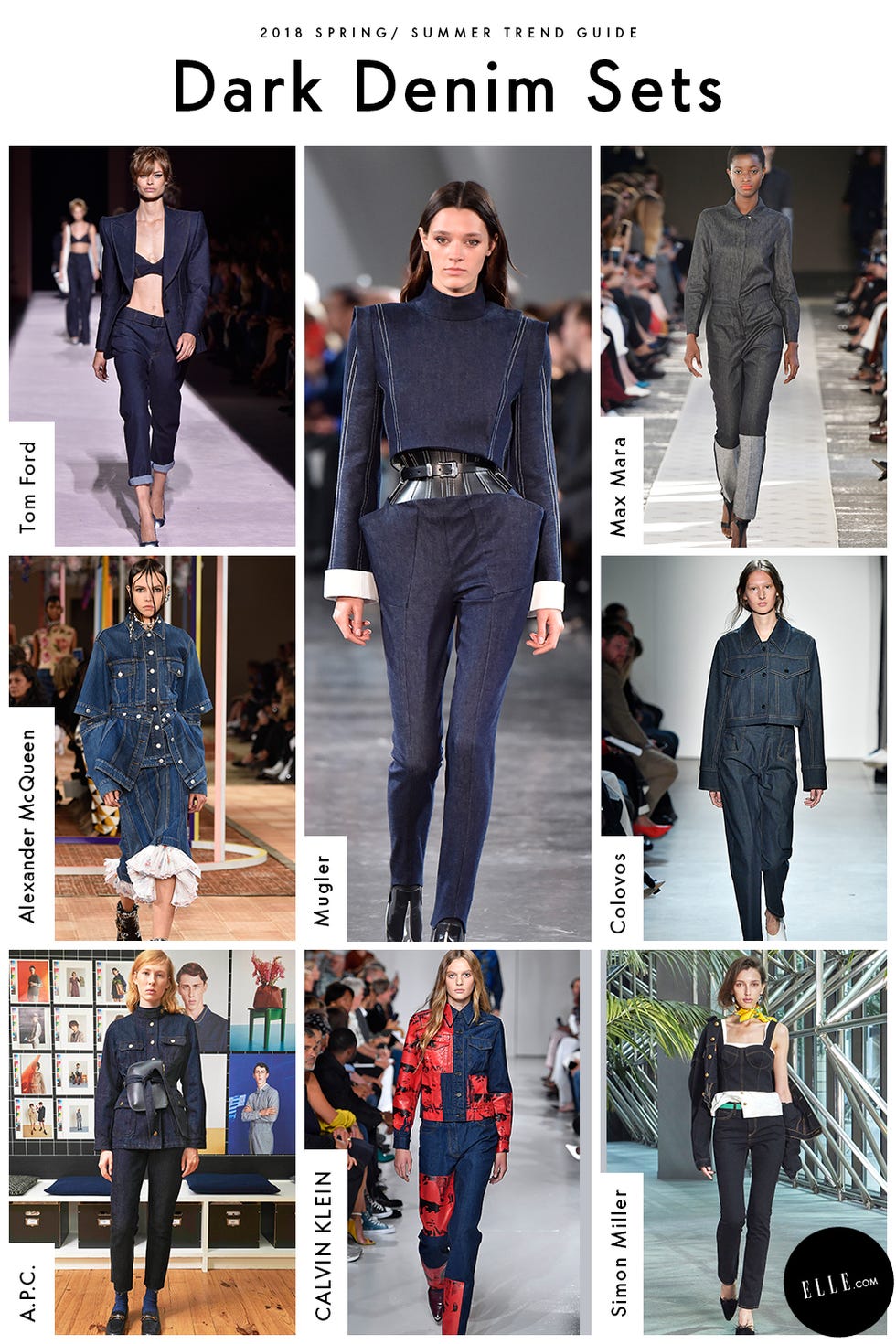 EXPOSED BRIEFS :
"Salute your shorts this season and bare it all with underwear meant to be seen. Fendi layered a sheer dress over their skivvies, while Adam Selman's pearl thong was worn with a see-through trench on top." – JUSTINE CARREON (elle.com)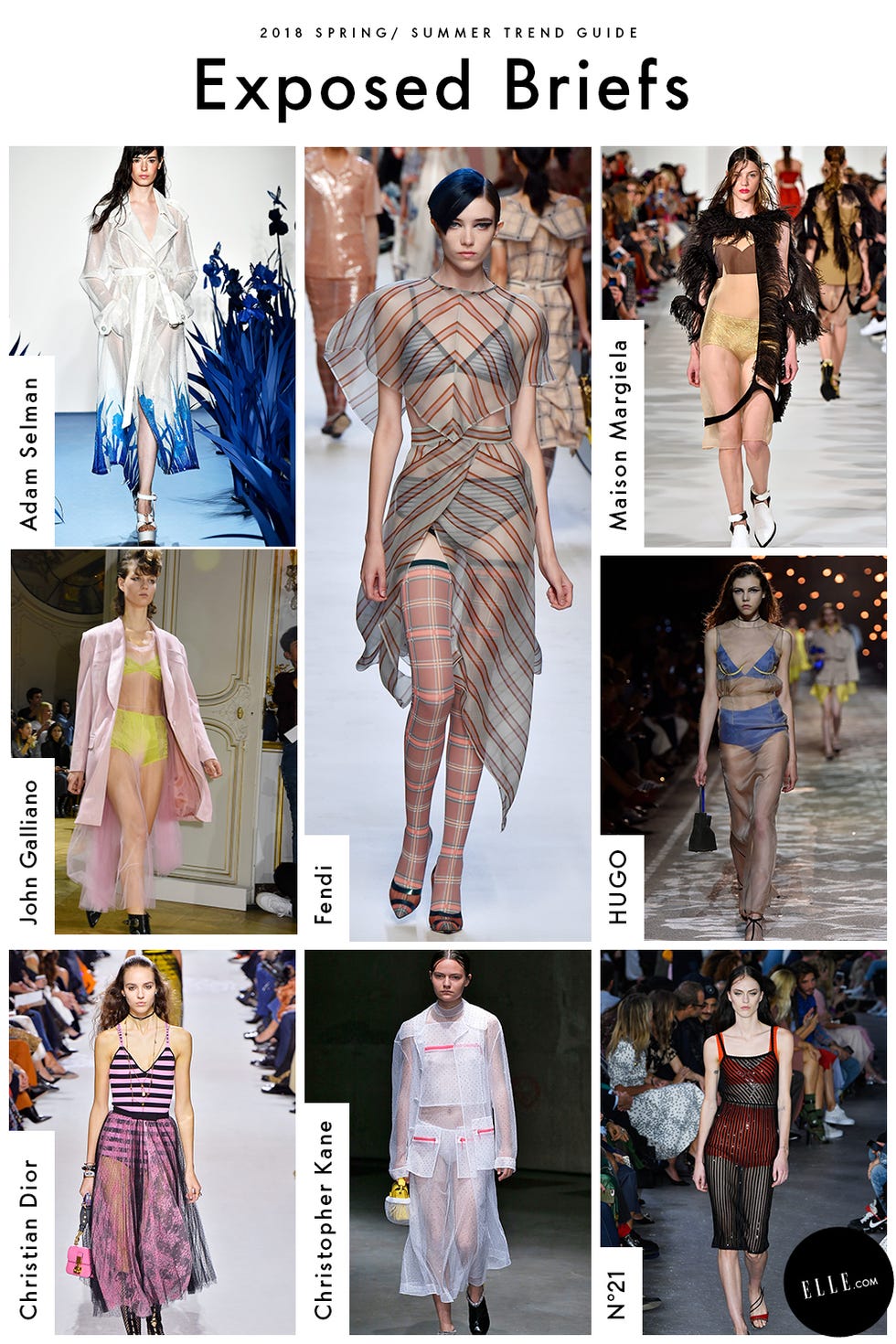 RAINBOW :
The multicolored rainbow print trend actually dabbles in other spring 2018 print trends, like stripes, slogans, and polka dots, but the prevalence of at least 5 colors is the look that automatically qualifies it.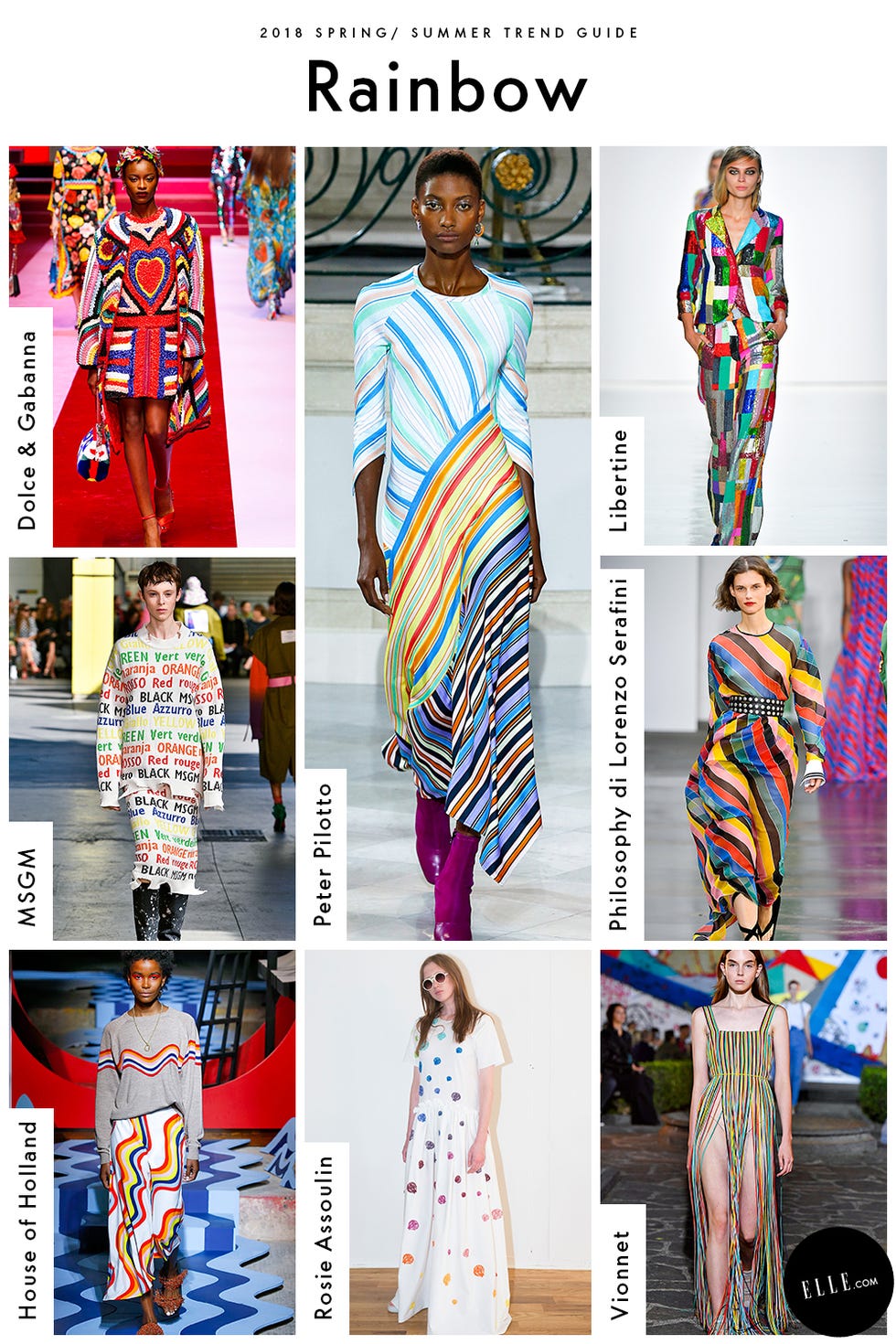 WINDBREAKER :
"Nylon parkas might fare better while hiking, but the windbreaker is getting the high fashion treatment. The Top Gun textile even made an appearance as a retro skydiving suit, courtesy of of Marc Jacobs, with bungee-laced accessories seen at Louis Vuitton."- JUSTINE CARREON (elle.com)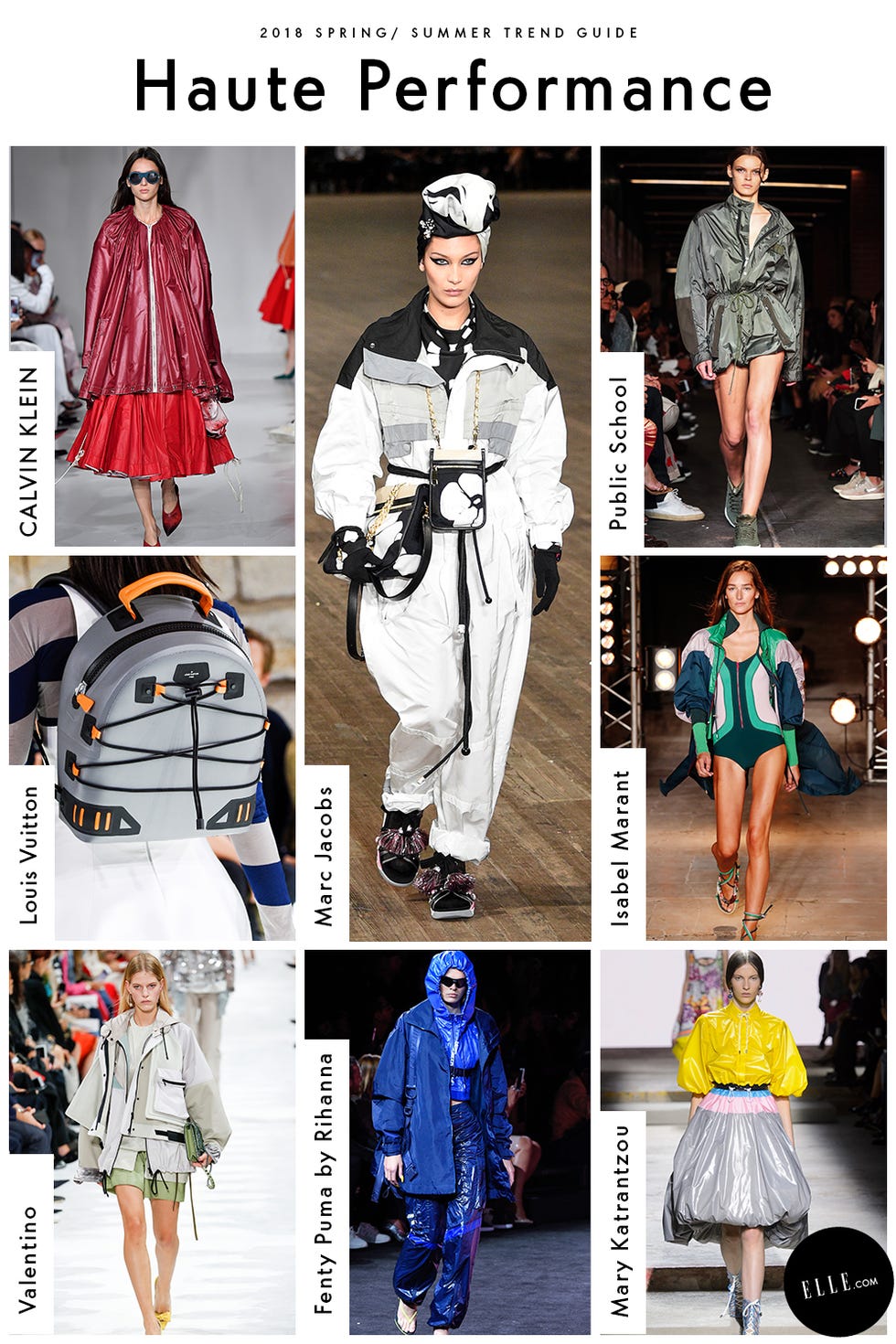 LOGOMANIA :
In case you missed it, logomania is taking over, led by a lot of the same logos we loved in the '90s and early '00s. Fendi! Gucci! Balmain! Versace! Balenciaga! Calvin Klein! No major brand could leave their own labelling alone for S/S 18
LAYERS :
The title says it all. Layering isn't just essential, it's an easy way to add some self expression to your look. Long layered clothing, specifically of the below-the-knee sweaters, kimonos, and dusters categories have seen a 102% boost. My most favorite part of this trend is layering with pants/jeans.
TRENCH-COATS : (A/W'18)
There was definitely a huge Nineties urban vibe happening. It was expressed in different ways, but the common item was the Windbreaker/parka/anorak jacket. In whatever iteration, it will be everywhere next season
BOMBER JACKETS : (FALL/W '18)
Although trench coats are the epitome of the British style, the best fall 2018 trends from London Fashion Week included monochrome bomber jackets (also multi-colored ones were a 'thing').
SPORTSWEAR :
The best way to carry off this trend – instead of looking like an escapee from a Soviet Olympic training camp, circa 1989 – is to dilute heavily. Take one shellsuit jacket and wear with something seriously sexy on the bottom. Or team the new sporty 'dad' trainers (see below) with a pretty summer dress.
SNEAKERS :
Wearing sneakers with any outfit are in trend this year. Comfortable & chic.Nicholas Ghesquière's futuristic, thick-soled trainers for Louis Vuitton that really got the crowds going during the tail end of Paris Fashion Week.
PANTSUITS:
If there's one thing worth spending some money on, it's a perfectly tailored suit. These days you can find the style to match your personal taste because the concept is a now constant fixture on the runways. Whether you want to make a statement or opt for something subtler.
PENCIL SKIRT :
Rejoice in the pencil-skirt comeback. This time around, they are longer-lined and therefore more flattering.
TULLE : (S/S 2018)
Spring 2018 Milan Fashion Week Trend: It's festive, it's glamorous and it's sheer! Tulle was the fabric of preference at the Milan shows.
EVENING HIGH-END SWEATERS:
Who would wear knit sweaters for a formal night out or at an evening gathering? After all this LFW, probably many of you, as most creative directors transposed simple lines and figures to astounding cuts and structures, creating a dream array of must-have sweaters to effortlessly don from daytime to night.
PATTERNS and PRINTS:
Patterns are always in fashion in one way or the other. However, what is interesting is this year from check mates to jungle prints, from floral to polka dots all of them are in fashion. *My personal favorite is to mix the pattern with plain solid color.
ANIMAL PRINTS :
London Fashion Week's all 2018 +New York Fashion Week's Fall 2018 – CRAZY-BRIGHT ANIMAL PRINTS HAVE RESURFACED ON THE FALL 2018 RUNWAYS. They've been hibernating since, like, the 1980s.
Printed or directly embroidered onto the fabrics, the animal trend got many designers also revive their collection with wild touches of (faux) furs and actual animal graphics, turning their urban-chic leitmotifs to a real-life urban jungle.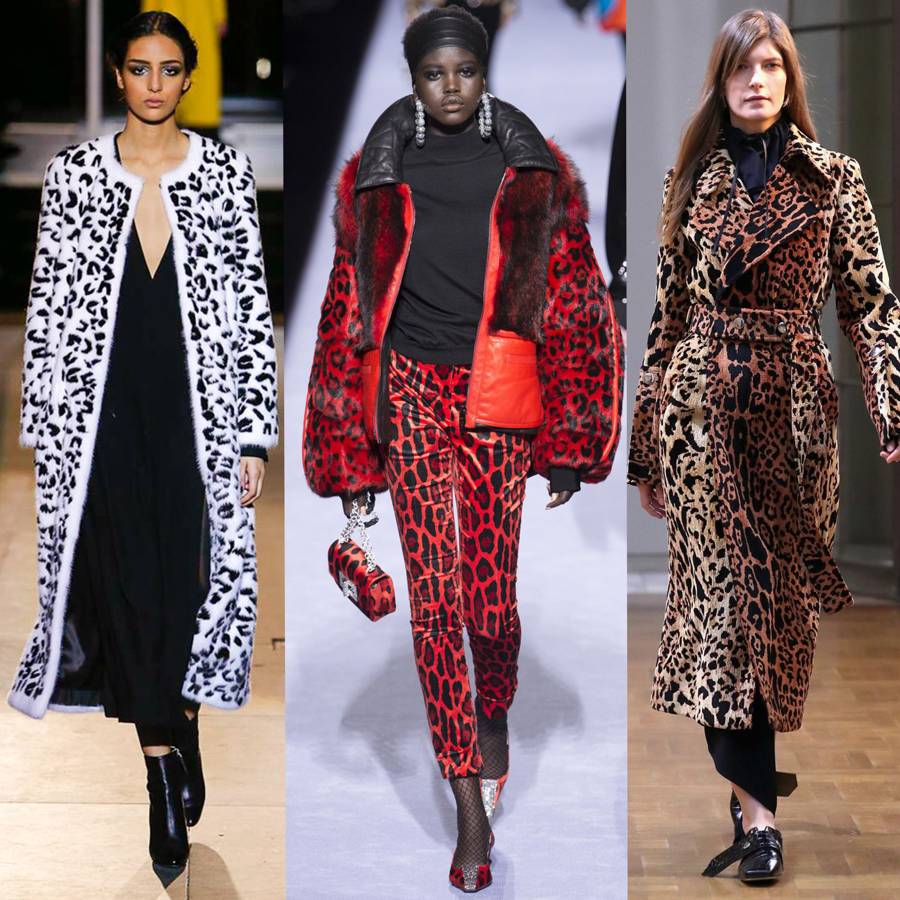 CHECK MATES + TARTAN + PLAIDS:
Just when you thought plaids and tartans were only for the colder months, along comes this charge of checked goods for spring. It's partly in thanks to the fact that designers are considering the all-year-round use. Checks looks amazing on Pant suits that is popular this year.
STRIPES :
Stripes had a very big presence on the runways of every Fashion Week. Vertical, horizontal, diagonal, pinstripe, dashed; all different versions of stripes showed up on the runways, crossing trends and establishing stripes as a major spring/ summer 2018 print trend alone.
POLKA DOTS :
Polka dots are best for summer looks. Keep it monochrome and keep it in cool, modern shapes to avoid looking like a 1950s housewife. The print was spotted everywhere, most notably as a monochrome colorway.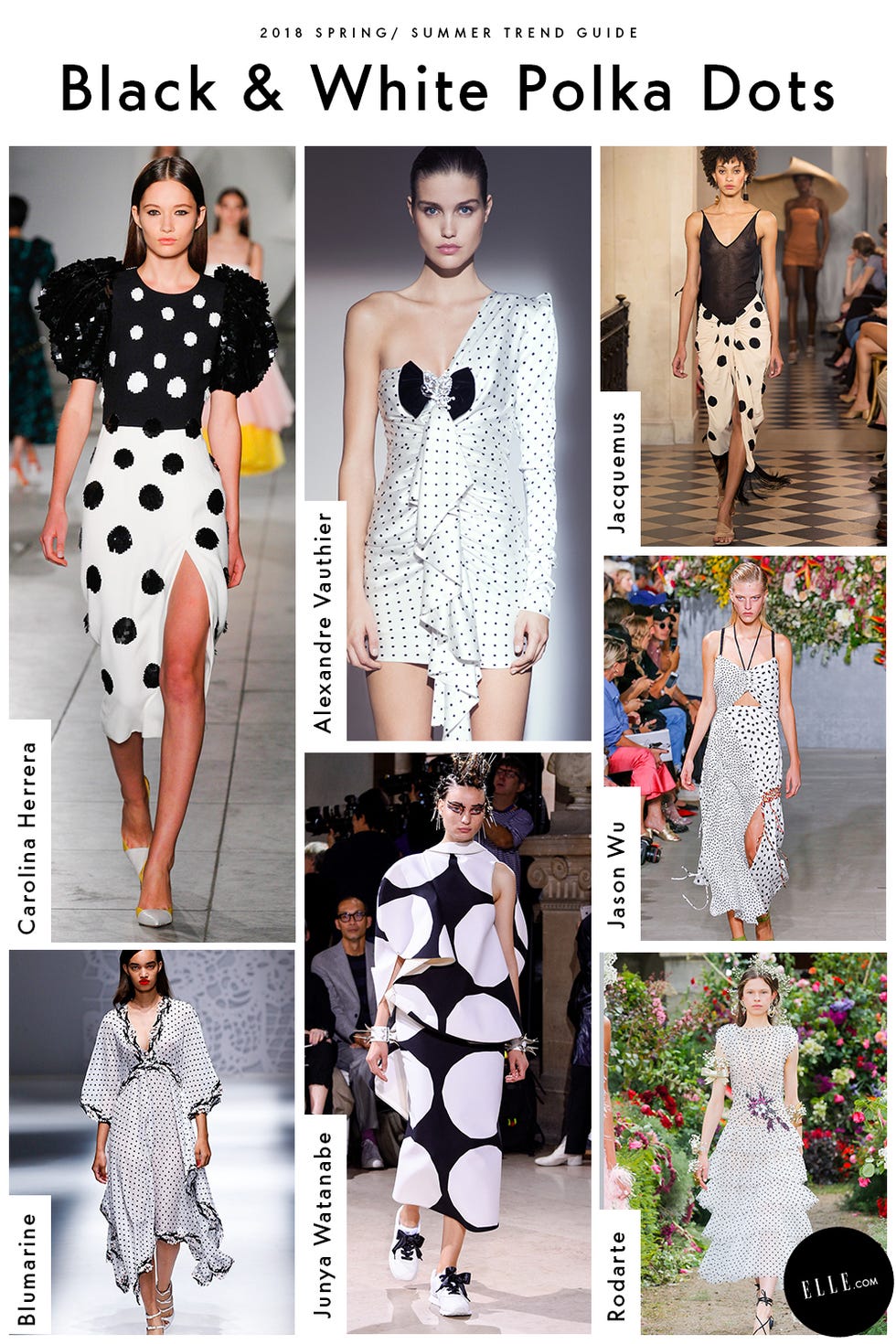 FLORALS :
There has been a resurgence on the runways for vintage-look florals, the kind women would have once worn in the '40s and '50s. Summer wouldn't be summer without a sea of florals and pretty dresses – and this season doesn't disappoint. There's also a whole host of sheer loveliness to choose from when it comes to the perfect summer dress – if you're not brave enough to wear with visible briefs on full display (a big runway trend), pop yours over a high-necked blouse and shorts, a la Emilia Wickstead.
Soft florals are very different from the spring/ summer 2018 print trends on this list. They are romantic, floating and printed on floaty materials to emphasize the romantic and airy appeal of their softness.
The difference with '60s florals over other floral prints for spring 2018 is the shape, size and colors used for the florals. The '60s had very distinct fashion notes that do not always carry through to other genres without losing their '60s signature. Certain flower shapes, hues of orange and more make the difference between those other floral prints, and '60s floral prints.
Micro florals are the petit and sweet spring 2018 prints designed for more feminine and fresh springtime wear. The micro floral print has been shown on sheer and semi sheer clothing.
GEOMETRIC PATTERNS :
FOLKLORIC :
CARTOON PRINTS :
Cartoon prints are not a new concept in any way, but their return definitely came as a new interpretation of the classic. A highlight of Milan Fashion Week was the Prada spring 2018 collection, which featured cartoons of the '30s and '60s female mega stars. That is a bit of an understatement, to put it more accurately – Prada elevated comic pages into the style for the chicest version of geek chic yet.
ART INSPIRED PRINTS :
Art inspired prints were seen for the spring 2018 shows by Raf Simons, who commissioned Sterling Ruby. There were plastic panels on the Calvin Klein dresses that featured Andy Warhol prints for a pop art enhanced aesthetic. Rei Kawakubo's runway show in Paris showed off the surreal prints of Italian painter Giuseppe Arcimboldo. The fruits and veggies featured in the prints brought a new dimension to the clothes, and will inspire a whole new facet of artistic expression in the wardrobes of fashion lovers for spring and summer 2018.
BOLD ABSTRACT PRINT :
Art and abstract motifs almost always go hand in hand, and so do they when it comes to the spring/ summer 2018 print trends. While we see lots of art-infused options for spring, creative abstract patterned designs don't lag behind, and we get some mesmerizing, bold options for the upcoming warmer months.
POP CULTURE PRINTS :
It's interesting how much pop culture prints and patterns can change a simple piece of clothing, making it look cooler and more covetable especially among the current millennial generation.
MIXED PRINTS :
2018 London Fashion Week: Known for being the city with an eccentric palette, London didn't disappoint when it came to bold pattern play. From the overcharged florals set against polka dots at Mary Katrantzou to subtler, more casual variations like the patterned knits at Burberry, there was a range of day to evening fare for any occasion.
JUNGLE/ TROPICAL PRINTS :
For everyone who is looking to step up their floral fashion game, tropical prints are very big this year. They hit the NYFW runways as a fresh take on the 'growth and freshness' of spring and summer.
The expected hibiscus flowers and palm leaves have really taken over much more than anyone anticipated. If florals, and pastels are not your take on the newness of spring, you can be bold in your wardrobe full of tropical prints. Tropical prints were also on the Milan runways.
*Source: • marieclaire.co.uk • elle.com • refinery29.com • whowhatwear.co.uk • wwd.com • vogue.co.uk • glowsly.com • gq-magazine.co.uk •
Creativity is spontaneous. Writing is personal & emotional. Every piece is close to my heart. Coming up with new topics and compiling them takes effort & time. So help spread the word. Thank You! 😊

 SHARE • LIKE • COMMENT • SUBSCRIBE