Color Trend Report 2018-19 : S/S + A/W
The year of extremes, from neon pop – bubblegum vibe to minimal neutrals!
It is fascinating to know that we are right now in a time where major fashion eras of last couple of decades exist together along with the evolving future of fresh fashion trend. From a fashion and color trend point of view 2017 was the year that came to an end with a comeback of the 40s, 50s, 60s, 70s, 80s and the 90s fashion! – All follow the same 'time-machine + present mix-tape' theme.
PANTONE® COLOR OF THE YEAR 2018  is  PANTONE 18-3838 ULTRA VIOLET :
Ultra violet takes two shades that are seemingly diametrically opposed — blue and red — and brings them together to create something new. It implies the mysteries of the cosmos, the support discoveries to go beyond where we are now. It is symbolic of infinite possibilities as the skies above us. Ultra Violet symbolizes experimentation and non-conformity, spurring individuals to imagine their unique mark on the world, and push boundaries through creative outlets.
Spring/Summer 2018 :
According to the Pantone Fashion Color Trend Report – London Fashion Week Spring 2018 by Laurie Pressman of Pantone Color Institute :
The 12 CALL OUT SHADES are –
PANTONE 17-1563 : Cherry Tomato

PANTONE 18-4043 : Palace Blue

PANTONE 17-1514 : Ash Rose

PANTONE 14-0121 : Nile Green

PANTONE 13-0646 : Meadowlark

PANTONE 15-1520 : Blooming Dahlia

PANTONE 18-3838 : Ultra Violet

PANTONE 18-1325 : Spiced Apple

PANTONE 14-3207 : Pink Lavender

PANTONE 12-2103 : Almost Mauve

PANTONE 17-1929 : Rapture Rose

PANTONE 13-0550 : Lime Punch
The 4 SEASONAL CLASSICS are –
PANTONE 19-4034 : Sailor Blue

PANTONE 14-4202 : Harbor Mist

PANTONE 15-1214 : Warm Sand

PANTONE 11-0608 : Coconut Milk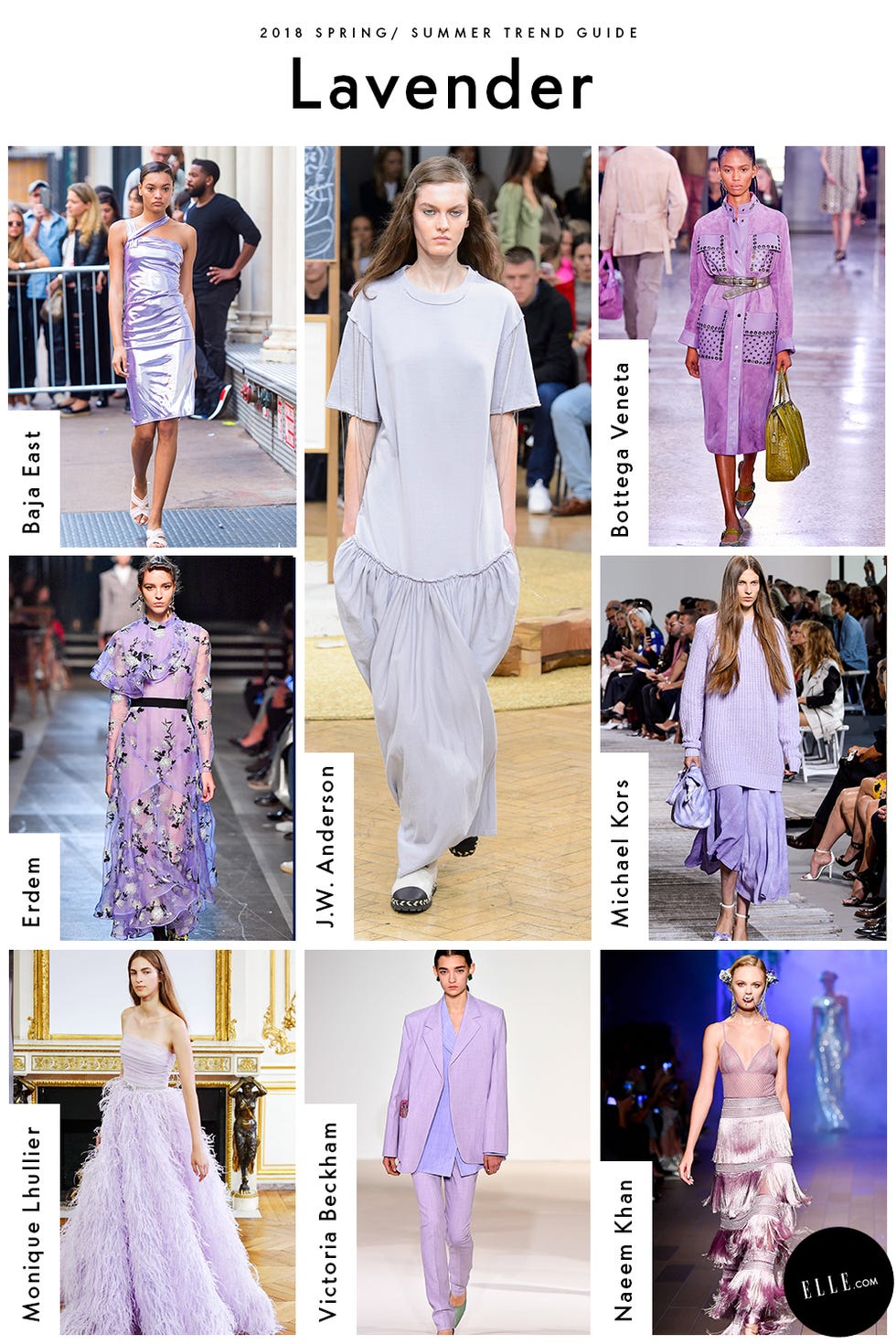 As per  Vogue –
Lavender: this color will dominate the whole summer season.
Purple: Pantone's 2018 color of the year is Ultra Violet.
Rapture rose: a full, princess-like, intense pink shade.
Sky blue: a fresh color that evoke a serene sky. It's great on mid or full-length dresses:
Light green: green is back also for summer 2018, this time with a delicate and fresh nuance.
Military green: considered now as a neutral hue, just like beige, it often 'breaks' elegant or sporty looks on military style pieces.
Milk white: a full, warm hue. Nothing to do with optical white, cooler and cyber-like.
Chocolate brown : brown is back on the runway.
Yellow: the same shade of the tracksuit sported by Uma Thurman in Tarantino's Kill Bill. A vibrant, energizing tone of yellow. And yellow's comeback for 2018 is strictly connected to purple, its complementary color.
Tomato red: a totally bold, entrancing hue.
Some other colors

 :
Little Boy Blue
Spring Crocus
Emperador
Safety Orange
Arcadia
Chili Oil
Powdery Millennial Pink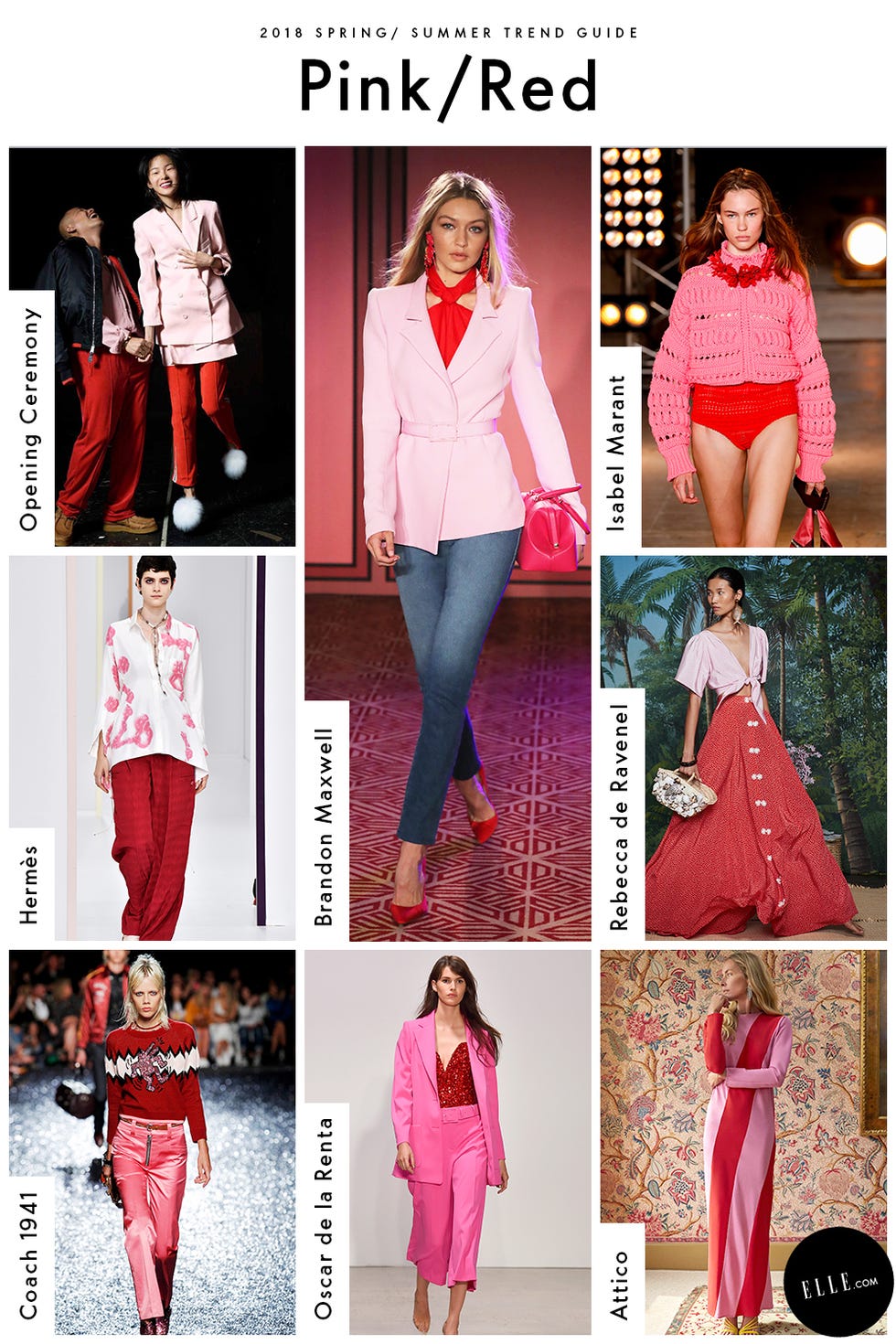 Autumn/Winter 2018-19 :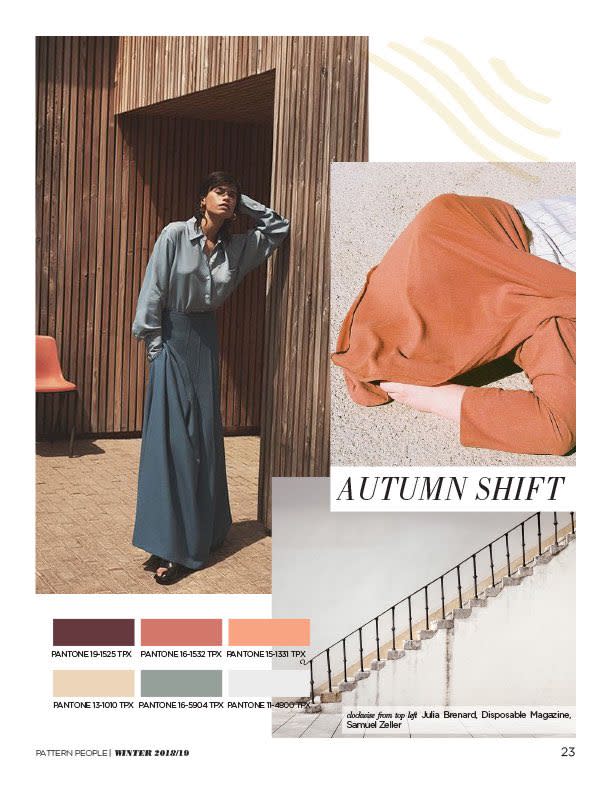 According to the Pantone Fashion Color Trend Report – London Fashion Week  Autumn/Winter 2018 by Laurie Pressman of Pantone Color Institute :The Pantone Fashion Color Trend Report for London Autumn/Winter 2018 features a bold palette of autumnal hues complemented by some more surprising shades. The report underscores the top 12 colors for men's and women's fashion, as well as five new classics. Highlighting the experimental nature of London fashion, there are two additional shades for London; PANTONE 15-1515 Mellow Rose, a beloved and subtle, traditional English shade, and PANTONE 18-2045 Pink Peacock, in contrast, a striking statement color.
PANTONE 19-1536 : Red Pear

PANTONE 18-1549 : Valiant Poppy

PANTONE 18-4048 : Nebulas Blue

PANTONE 15-0850 : Ceylon Yellow

PANTONE 18-0625 : Martini Olive

PANTONE 16-1255 : Russet Orange

PANTONE 18-3838 : Ultra Violet

PANTONE 15-3520 : Crocus Petal

PANTONE 15-1515 : Mellow Rose

PANTONE 12-0740 : Limelight

PANTONE 18-5025 : Quetzal Green

PANTONE 18-2045 : Pink Peacock
The 4 SEASONAL CLASSICS are –
PANTONE 19-4031 : Sargasso Sea

PANTONE 11-4801 : Tofu

PANTONE 14-1116 : Almond Buff

PANTONE 14-4107 : Quiet Gray

PANTONE 16-1438 : Meerkat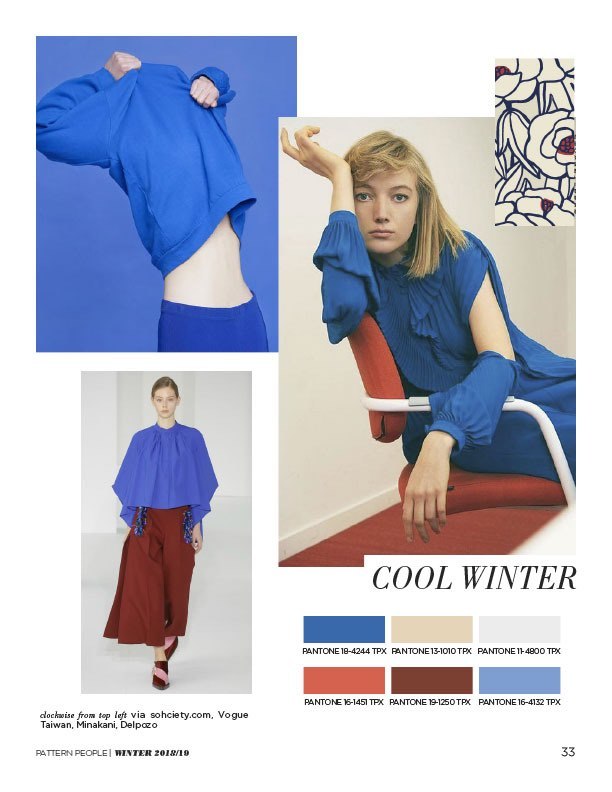 2018 METAL SHADES :
Gunmetal
Bright Silver
Golden Glimmer
Best colors to mix and match

:
NEUTRALS Color inspirations from Kim Kardashian-West :
Love her or hate her however, the one person  we can keep a close eye on everything trendy is Kim Kardashian West. The lady sure knows how to rock extremes when it comes to colors trends as well as fashion trends. And we can take notes from her!
"Trends will take two opposed directions: on one side towards a strong, vibrant palette, that recalls fauvist pictures, on the other towards pastel hues on light and destructured garments, for an ethereal look." –SELENE OLIVA (Vogue)
Mix future with past, pastels with dark, and we're here for it!
*Source: Pantone.com, Vogue.com, elle.com, lucine-a.com, kimkardashianwest.com, glowsly.com
Creativity is spontaneous. Writing is personal & emotional. Every piece is close to my heart. Coming up with new topics and compiling them takes effort & time. So help spread the word. Thank You! 😊

 SHARE • LIKE • COMMENT • SUBSCRIBE